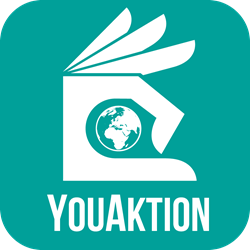 No act of kindness no matter how small is ever wasted
Bellevue, Washington (PRWEB) February 05, 2015
Serghei Ghidora announced the launch of YouAktion, a social gaming app which allows users to make a big environmental and social impact. Marketed under the slogan "Play the game. Change the world. Earn rewards.", the app aims to inspire hundreds of individuals to make real-life good deeds regardless of whether or not they are social or environmental activists.
Commenting on his new app, Ghidora said, "Changing the world has become a game thanks to YouAktion. By lending a helping hand to others, animals or even the ecosystem surrounding us, players get rewards such as electronic gadgets, beauty and wellness necessities, movie tickets, and much more. As a result, players get what they give and later develop habits that benefit the world."
Before they can play the game, YouAktion's users should create their own profiles and claim their first 200 Aktion points. To take 'Aktion', players have to upload 'before' images and describe what they plan to do. They should then update their Work-In-Progress by detailing their activities. Once they are done, they can upload 'after' images or links and describe the results. Based on their 'Aktions', users will earn points which they can redeem later for products or gift cards from different vendors. To ensure that YouAktion's players remain motivated, Ghidora added a World's Aktions tab where users can see recent Aktions from other users across the globe.
To make things interesting, YouAktion boasts a 'Featured Aktions' section. Through it, companies and organizations can request specific Aktions from players and reward them generously with more points. Additional points can also unlock new levels, making players eligible for annual bonus rewards once they reach the highest ranks. Moreover, YouAktion.com regularly hosts contests where winners are given gift cards, memorabilia, free points, and the opportunity to have their photo featured on the homepage for a whole month.
"I left everything in Italy and came to the U.S. just to create this project and inspire people to take proactive steps towards making a social and environmental impact," added Ghidora. "I would love to see people download this game and make an effort towards ensuring that our world is worth living in today as well as tomorrow when we hand it over to our children."
Currently, YouAktion is available in two versions: Lite and Full. The free version YouAktion Lite features advertisements, limits points to 1,000, and does not include the Featured section. On the other hand, the $0.99 Full version promises zero ads, unlimited points, and access to Featured Aktions. For more information on YouAktion, how to play the game and get rewards for good deeds, visit http://www.youaktion.com. To download the app from Google Play, visit http://goo.gl/tzoxhN.