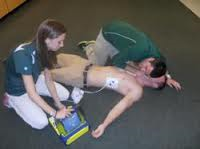 We continue to strive to make things better and stay on top of athletic training. We have implemented Anyone can Save a Life to make our EAP even better
Dover DE (PRWEB) February 06, 2015
Wilmington Friends School and Newark Charter School became the latest schools in Delaware to win the Safe Sports School Award (SSSA). Wilmington Friends received their award on August 27, 2014, and Newark Charter was awarded on September 15, 2014. Both schools will be recognized as First Team schools until 2017.
The SSSA was created in 2013 following the 4th Annual Youth Sports Safety Summit, and is now a Power of A silver award winner (awarded in 2014 by the American Society of Association Executives). The award recognizes secondary schools that provide safe environments for student athletes, while reinforcing the importance of providing the best care, prevention, and treatment to all athletes. Schools must meet criteria set forth by the NATA involving administration, pre-participation exams, appropriate and safe facilities, equipment, protocols, emergency action plans, and education.
During the NATA's Safe Sports Championship taking place June-August of 2014, all secondary school athletic trainers in Delaware were encouraged to participate and complete the application process by Delaware Athletic Trainers' Association (DATA) president John Smith. Smith and the DATA executive board offered to pay the entry fee for the first two schools to complete the application process. Both Devon Adams, athletic trainer at Wilmington Friends and Theresa Repole, athletic trainer at Newark Charter note that this offer from the DATA and the NATA contest helped in their completion of their applications.
Both schools were undergoing changes to their emergency actions plans, due to new venues at Friends and a new athletic program at Newark Charter. Repole and Adams reported that the changes at their schools and support from their administration helped in completing the necessary requirements to become a safe sport school. Adams who also sits on the Health and Safety Committee at Friends stated that her athletic director proofed her application and assisted in making sure all athletic venues were safe. She also reports the support of the Health and Safety Committee was integral to her success. Kevin Kelly, high school athletic director at Newark Charter was quoted in saying "All administrators - School Director, Greg Meece; High School Principal, Lisa Ueltzhoffer; Assistant Principal, Nick Russo; and Middle School Principal, Jesse Wakeman - were supportive and excited about the chance to have our school recognized."
Needless to say both schools were honored and excited to be named first team safe sports schools. Devon Adams had this to say about the award and its affect on athletics at Friends, "Wilmington Friends School prides itself in providing the best care for our student athletes. The recognition of being a Safe Sport School is wonderful and lets the community know about our high standards, but Friends has - and always will - put safety first." The SSSA banner was the first banner to be hung in the gym at Newark Charter and the award had an influence on athletics. "We continue to strive to make things better and stay on top of athletic training. We have implemented Anyone can Save a Life to make our EAP even better," said Theresa Repole.
Wilmington Friends School and Newark Charter School join Archmere Academy, Laurel High School, and Middletown High School as Safe Sports Schools in Delaware. The DATA will continue to help promote this award and the efforts of the NATA to have all secondary schools be safe sports schools.
For more information visit: http://www.delata.org/