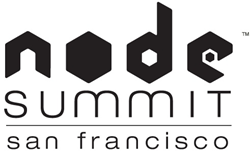 "The relevance of Node.js is expanding exponentially, and along with it, the Node community is becoming increasingly active and relevant," -- Charles Beeler, producer, Node Summit
San Francisco, CA (PRWEB) February 05, 2015
Node Summit, the only conference focused on how Node.js is transforming the future of computing, today announced new headline speakers for the third annual Node Summit, taking place February 10-11, 2015 in San Francisco at the Mission Bay Conference Center, as well as the addition of Day Zero – an exclusive pre-event day of specialized sessions. This year's Node Summit is expected to sell out, with attendance already significantly exceeding previous years' events. Launched in 2011, Node Summit is the first event dedicated to engaging Node.js experts, enthusiasts and developers in a discussion of the dynamic runtime's place at the center of the growing web ecosystem.
"The relevance of Node.js is expanding exponentially, and along with it, the Node community is becoming increasingly active and relevant," said Charles Beeler, producer of the Node Summit Conferences. "The growth of the Node.js ecosystem is being spurred by two complementary trends – existing Node environments becoming increasingly interconnected, and new opportunities for Node applications continually surfacing. Combined, these two forces are driving unprecedented excitement around Node.js throughout our industry."
More than ten headline speakers have been added to the Node Summit agenda, for a total of 90 speakers. Brendan Eich, co-founder of Mozilla and Sri Viswanath, SVP Engineering and Operations at Groupon join a roster of expert speakers from leading Node innovators, including GoDaddy, Fidelity, Heroku, Joyent, LinkedIn, MasterCard Worldwide, Netflix, Oracle, PayPal, Walmart and Yahoo. Raquel Vélez of npm will serve as Emcee of the proceedings.
Speakers will participate in content-rich discussions, interactive panels and featured presentations throughout Day Zero and the main conference agenda, as well as in NodeTalks – real-world case studies highlighting high-profile web applications across the Node ecosystem. Node Summit speakers represent a broad cross section of the technology industry involved in implementing Node.js, including application developers, component and device makers, data center providers, network operators, platform and service creators and leading innovators. Node.js-related topics covered by this year's speakers will include enabling innovation at the application layer; best practices for successful implementations; aligning workflow and culture around development; the role of startups in the Node.js ecosystem; and predictions around the future direction of Node.js.
Day Zero
This year Node Summit introduces Day Zero, a full "pre-day" of talks covering business and technology issues in the Node.js community. The sessions are limited to 100 registered attendees per track. The agenda includes a full track of workshops running alongside educational and collaborative sessions. Highlights include "Node Fundamentals," a 3-hour educational NodeSchool session open to all skill levels; several workshops on Node design, development, deployment, integration and management; and a 3-hour hardware hacking session for creative exploration from front-end through the hardware level using Tessels. Due to limited space and anticipated high event attendance, Node Summit registered attendees are encouraged to secure Day Zero reservations as soon as possible.
NodeTalks
Node Summit 2015 will include the return of NodeTalks, where leading technology experts from across the Node ecosystem will share real-world Node.js case studies and give talks highlighting the rapidly growing number of high profile web applications that rely on the emerging Node.js ecosystem. More than 30 NodeTalks are scheduled for this year's event.
Sponsors and Media Partners
Node Summit 2015 is supported by 20 event sponsors, including Platinum sponsors Heroku, IBM and Joyent; Gold sponsors Bugcrowd, F5 Networks, Go Daddy, Modulus, npm, Rally Ventures, Red Hat and StrongLoop, and Silver sponsors Apigee, AppDynamics, Atlassian, CA Technologies, ClusterK, HIRED, PayPal and Zipongo. Node Summit 2015 Media Partners include acmqueue, Big Data Cloud Inc., Churchill Club, SF Beta, The New Stack and VentureBeat. Sponsorships, which reach top-tier enterprise technology influencers and dealmakers, are sold out for 2015. Visit the Node Summit 2015 sponsor page for information on Node Summit and future sponsorship opportunities.
Final Week to Register
Attendance at this year's Node Summit is expected to exceed prior years' numbers and sell out. Anyone looking to connect with relevant players in the Node.js ecosystem – technology experts, business leaders, entrepreneurs and venture capitalists – should not miss this seminal event. Register today to ensure your spot.
About Node.js
Node.js is a platform built on Chrome's JavaScript runtime for easily building fast, scalable network applications. Node.js uses an event-driven, non-blocking I/O model that makes it lightweight and efficient, perfect for data-intensive real-time applications that run across distributed devices. Node.js software is open source, MIT-licensed software.
About Asynch Media
Asynch Media is focused on the intersection of technology, business and innovation. Asynch's goal is to be the premier producer of events and content that relate to the real-time collaborative nature of the web and technologies that enable businesses to benefit from disruptive innovation. Node Summit is its flagship conference with Node.js as the central tenet of today's real time web.