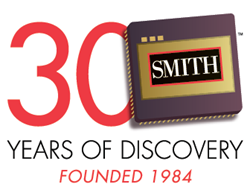 We are excited by the opportunity to showcase our evolving service portfolio and quality resources to the global community of industry professionals at Electronica China.
HOUSTON, TX (PRWEB) February 04, 2015
Smith & Associates, the largest independent distributor of electronic components, today announces its upcoming exhibition at Electronica China 2015 in Shanghai. The company, which celebrated its 30th anniversary in 2014, closed this historical year with record annual revenues that were the largest in the company's history. Smith is now bringing this momentum to the expansion of its global quality and service programs, which it will showcase at Electronica China 2015, a leading electronics industry gathering.
Smith & Associates representatives will be on-hand in booth 3172 to demonstrate the company's product sourcing capabilities and expansive strategies for customized inventory and supply chain management, in addition to its extensive quality and anti-counterfeit testing capabilities. Electronica China will also offer Smith the opportunity to highlight the localized support options for end-to-end supply chain management the company can provide customers in the bustling Asian market and worldwide.
"Electronica is one of the electronics industry's leading events, and Electronica China offers the unique opportunity to interact with one of the industry's most vital markets," said Mark Bollinger, Smith's Vice President of Marketing. "Asia's constantly evolving market demands keen industry awareness to know and support this region."
Smith's own consistent growth underpins the company's ability to support customers in Asia and worldwide. Smith has strengthened its efforts and resources for combatting counterfeiting with the expansion of its laboratory facilities and the continual, extensive training of its quality inspectors. Smith has also revolutionized its ability to engineer unique supply chain management strategies with the development of its new Global Services division, which analyzes customer needs and designs customized service programs to address their supply chain challenges. The company has also expanded its PPV program to support cost savings for customers worldwide.
Smith is now poised to showcase these strengths at Electronica China 2015.
"This event will offer a valuable opportunity to demonstrate to current and potential customers what Smith can offer the expansive Asia-Pacific market," said Mark. "We are excited by the opportunity to showcase our evolving service portfolio and quality resources to the global community of industry professionals at Electronica China."
WHAT: Electronica China 2015
WHEN: Tuesday, March 17, 2015 – Thursday, March 19, 2015
WHERE: Smith & Associates Exhibition Showcase
Hall E3, Booth 3172
Shanghai New International Expo Centre
China, 上海市浦东新区龙阳路2345号
No. 2345 Longyang Road, Pudong New Area, Shanghai 201204, China
Meetings with Smith personnel can be scheduled via Smith's Electronica page.
About Electronica China
The International Trade Fair for Electronic, Systems and Applications (Electronica China) is the leading trade platform for electronic components and systems in China, as well as the Asian-Pacific region. Its growth in the last decade has established a name for Electronica China's "high-end applications and technological innovations." A series of international innovation forums addressing important application trends and growth markets offer the electronics community in China the latest industry trends and solutions.
About Smith & Associates
Founded in Houston in 1984, Smith & Associates is a leader in the independent distribution of semiconductors and electronic components to electronics and high-tech manufacturers. Smith offers shortage sourcing for commodity and obsolete parts, innovative purchasing and inventory management solutions, redistribution of excess inventory, and component stocking for warranty and repair programs.
A privately-held company, Smith & Associates employs more than 350 people worldwide, with annual revenue in excess of US $747 million. Smith's regional hubs in Houston, Hong Kong, and Amsterdam are ISO certified. In addition, sales and purchasing offices are located in Austin, Silicon Valley, Guadalajara, New York, Shanghai, Shenzhen, Seoul, Singapore, Taipei, and Penang. For more information, see http://www.smithweb.com/ or, to reach a Smith representative 24 hours a day, please call: 1.800.HOUSTON or +1 713.430.3000.
###
For more information, contact:
Mark Bollinger
Smith & Associates, V.P. of Marketing
+1 713.430.3000
mbollinger(at)nfsmith(dot)com