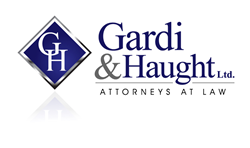 "Isaac is also highly skilled, energetic and passionate about the law's ability to help others, particularly in business and within residential and commercial property transactions."
(PRWEB) February 05, 2015
The Schaumburg, IL-based law firm Gardi & Haught, Ltd. has hired attorney Isaac Franco to handle the firm's growing corporate and real estate law cases.
"Our practice has continued to grow in the corporate law and real estate segments and it was important to bring someone aboard with dedicated experience in this area," said Tom Haught, partner at the firm. "Isaac is also highly skilled, energetic and passionate about the law's ability to help others, particularly in business and within residential and commercial property transactions."
Franco will counsel companies of all sizes in corporate transactions and will also assist both buyers and sellers of both commercial and residential properties with their legal needs. Franco was formerly with Fitzgerald, Franke and Hewes and also has experience at the Internal Revenue Service's Office of Chief Counsel, Loyola's Federal Tax Clinic and as an extern for the Honorable Judge Virginia Kendall of the Seventh Circuit's Northern District.
Franco received his J.D. from Loyola University's School of Law with a concentration in tax. He received a B.A. in psychology and sociology from the University of New Mexico in Albuquerque. While at Loyola, he was awarded both Loyola's Leadership and Service Award and Loyola's Public Interest Award for his commitment of service to the community.
###
About Gardi & Haught, Ltd.
Gardi & Haught, Ltd., is a law firm concentrating in real estate law, litigation, immigration, divorce, estate planning and corporate law. Founded by Hiten R. Gardi and Thomas E. Haught in 2003, the firm is located at 939 N. Plum Grove Rd., Ste. C, Schaumburg, IL. For more information, call 847-944-9400 or visit http://www.gardilaw.com.