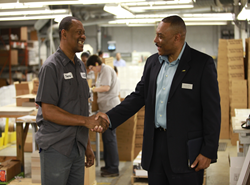 We care about our employees deeply, but Marketplace Chaplains helps us show that in ways we never could before, Michael Love, CEO Love Evelopes
Plano, Texas (PRWEB) February 09, 2015
While popular culture often purports you can't put a price on love, the 2015 American business trends report just the opposite; revealing one can most certainly put such a price, and it's a huge one. The National Retail Federations (NRF) reported $18.9 billion will be spent on Valentine's Day this year alone.
But, hundreds of proactive business CEOs in the U.S., and several foreign countries, are spending much less to show an equal amount of care and concern for their employees and their family members, in both the good times and the bad, through the work of Marketplace Chaplains.
Marketplace Chaplains, America's original and largest workplace chaplaincy organization, serves in more than 3,400 locations in 45 states and 9 International territories. Additionally, Marketplace Chaplains provides care across 35 different industry types, serving a total of 595,761 employees and their family members with something a bit more tangible and long-lasting than flowers or candy.
Michael Love, CEO of Dallas-based Love Envelopes, Inc., sounds like an employer who is all about loving his employees during the Valentine's season, but said he found the strategic initiative of Marketplace Chaplains to be a much more lasting benefit for his company.
"We care about our employees deeply, but Marketplace Chaplains helps us show that in ways we never could have before. We are a better company because of Marketplace Chaplains," Love stated.
Indiana candy President, Ghyslain Maurais, said his luxury chocolate business Ghyslain Chocolatier, Inc., does the vast majority of their business between Thanksgiving and Valentine's Day. While it can be a happy time for many people, it can also be very stressful for his employees, which is something Marketplace Chaplains has helped to alleviate.
"Sometimes you wish you didn't need it (Chaplains) with all the stress, but you do," Maurais said. "It's been used and very good for our company. The employees didn't know what we were doing at first, and didn't know we needed it, but it's something we needed to do."
A January 2015 Reuters news story(1) quoted the NRF study by stating that spending for 2015 is projected to be the highest figure in the study since 2007. Cards, jewelry, candy and flowers, all figure highly in the survey. However, Dallas CEO Love finds the care and concern he wants to express in his weekly chaplain visits for his employees.
"I'd say Marketplace Chaplains has been a very good experience for our company. They have been able to form solid relationships with our employees," Love added.
Marketplace Chaplains offers a wide range of services tailored to the workplace employees including weekly visits, hospital visitations, jail visits, burials and value-added work seminars.
"These visionary CEOs have found that love is not always shown through gifts like candy, candles or flowers; for them, it is shown by caring for their most important business assets, their employees and their family members," said Marketplace Chaplains Chairman and CEO Gil A. Stricklin.
About Marketplace Chaplains
For more information on this employee benefit, which has been featured on NBC Nightly News, CNN, Washington Post, the New York Times and Bloomberg Businessweek, visit http://www.mchapusa.com
To arrange an interview contact Art Stricklin, Vice President Public Relations, at artstricklin(at)mchapusa(dot)com or call 1-800-775-7657.
References
(1) http://t.co/kdJAukEONr