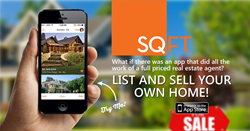 "SQFT is a world class real estate app for homeowners that want to save big when they sell" ~ James Simpson, CEO, SQFT
Boulder, Colorado (PRWEB) February 05, 2015
SQFTx, Inc. is pleased to announce that the SQFT App ("SQFT") is live in Apple's App Store. SQFT is presently available to homeowners and buyers in the State of Colorado with an iPhone mobile device. The Company plans additional market launches in other US markets in the coming months. SQFT provides homeowners with tools that take them from listing to closing with easy-to-understand, step-by-step instructions. Buyers using the SQFT app are able to schedule their own showings, make offers and transact under the watchful eye of a licensed real estate broker. SQFT is affiliated with a local licensed real estate brokerage in each market area. A desktop and Android version of the SQFT App will be released next.
"This is an exciting day for us. Our development and legal team has worked very hard for over a year to have a product ready for Spring, 2015. I'm pleased that we have a world-class product that is ready for business in the Colorado markets. We have already successfully on-boarded several listings and look forward to a robust selling season," said James Simpson, CEO.
About SQFT:
SQFT is the world's first real estate listing creation and transaction app. With SQFT, homeowners can create a professional listing that will immediately be posted to the MLS, Zillow, Trulia, Realtor.com plus approximately 450 additional sites. In addition to being a listing tool, SQFT provides easy-to-use, step-by-step instructions that guide a homeowner through the sale process. Once a listing is posted, SQFT provides professional photography and a beautiful "for-sale" sign. SQFT also schedules showings based on the homeowner's availability, assists with negotiations and electronically delivers closing documentation that can be signed on an iPhone. When a house sells, SQFT's fee is just 1%.
For more information about SQFT, please contact Allison Moore at (720)726-3989 or email to Allison(at)sqftx(dot)com, or visit our website http://www.sqftx.com
END