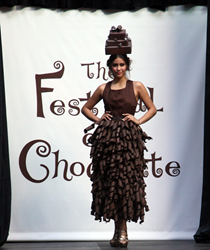 Tampa, Fla. (PRWEB) February 05, 2015
Tickets are on sale Friday, Feb. 6 for the fifth annual Festival of Chocolate, Florida's largest all-chocolate themed event as seen in Southern Living Magazine and on ABC's The Chew, on April 18-19, 2015. Sponsored in part by Macy's, The Festival of Chocolate will allow guests to enjoy amazing chocolate indulgences, a live cake decorating competition, the Cocoa Couture Fashion Show and new this year, the Junior Cocoa Couture Fashion show.
This year's event is themed "Growing up Chocolate" in honor of the new, spring festival date and will highlight the area's best chocolate and confection companies selling tastes and treats of everything chocolate from truffles, cakes and cupcakes to cookies, brownies and ice creams. Chocolate savory items, including chocolate BBQ sauce and meat rubs, will return for those looking for an alternative to the super sweet. Guests can also sample liquid chocolate with chocolate beers, wines and floats. Wine and chocolate pairing classes are also available throughout the weekend for $10 per person.
The Festival of Chocolate is now home to the Junior Cocoa Couture Fashion show. This competition will showcase chocolate-inspired designs created by artists between the ages of 5 and 15. These dresses will walk down the Yumway at 1 p.m. on Saturday, April 18 and will be on display at MOSI throughout the event weekend. Winners will be announced for both elementary-aged designers and teen/tween designers. For more information on entry, prizes and deadlines, visit http://www.mosi.org.
Entrance into The Festival of Chocolate is included with the purchase of MOSI admission (Adults: $22.95; Children 3-12: $18.95). Each adult ticket purchased in advance will receive two dollars in chocolate coins to spend at The Festival of Chocolate. MOSI Members receive discounted pricing to The Festival of Chocolate at only $10 per ticket for adults, and member children 12 and under can attend for free. Members can buy tickets in advance by calling 813-987-6000 or by visiting mosi.org. Non-member advanced tickets are available at tampa.festivalofchocolate.com.
For more information, visit mosi.org. The Festival of Chocolate is sponsored in part by Macy's. MOSI and The Festival of Chocolate are the current Guinness World Record holders for the world's largest cup of hot chocolate.
About MOSI (Museum of Science & Industry)
MOSI is a not-for-profit, community-based institution and educational resource dedicated to advancing public interest, knowledge, and understanding of science, technology, engineering, art and math (S.T.E.A.M.) and is home to the Florida Hospital IMAX® DOME Theatre, the only IMAX dome theater in the state of Florida. MOSI's core ideology is to make a difference in people's lives by making science real for people of all ages and backgrounds. MOSI gives away more than $3 million in free memberships each year, $250,000 in free tickets annually, and approximately 400 scholarships each year for children to attend MOSI Summer Science Camps. Additionally, MOSI's education staff works closely with area teachers offering free training and support for area science educators. With a total size of more than 400,000 square feet, MOSI is the largest science center in the southeastern United States. Learn through play inside Kids In Charge! the largest Children's Science Center in the nation or The Amazing You—a 13,000-square-foot exhibition on health and wellness. Conquer your fears on MOSI's Sky Trail® Ropes Course and Zip Line. Budding inventors can engineer anything imaginable and hold it in the palm of their hand in MOSI's technology playground and inventor's studio, Idea Zone; and aspiring astronauts can travel to the moon to operate a lunar colony in Mission: Moonbase, funded in part by NASA. MOSI is the proud winner of the 2009 National Medal for Museums by the Institute of Museum and Library Services, the nation's highest honor for museums. For more information on MOSI, visit http://www.mosi.org.
About The Festival of Chocolate
Former Walt Disney World Producer and owner of Indigo Creative Productions, Aileen Mand, partnered with third-generation Chocolatier Edgar Schaked to create The Festival of Chocolate-the ultimate interactive, educational chocolate experience. Marrying her specialty in unique, large-scale public events including Coca Cola's Olympic City, Political Conventions and Major League Baseball's All-Star Week with his expertise and outreach in the Chocolate Industry, they have traveled The Festival of Chocolate to Tampa, Orlando, West Palm Beach and are expanding the successful event into other cities.