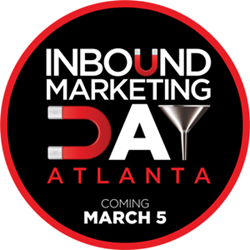 Don't miss this exciting event for Atlanta marketing professionals. We will all leave smarter and full of ingenious ideas for inbound marketing.
Atlanta, GA (PRWEB) February 05, 2015
Six Atlanta area companies have teamed up to organize the first Atlanta Inbound Marketing Day. The Atlanta event is part of of a global Inbound Marketing Week, in which events around the world have been organized to encourage professionals to meet and share knowledge and insights on inbound marketing. The inaugural Atlanta inbound event will take place at:
Roam Dunwoody, 1155 Mount Vernon Highway, Suite 800, Atlanta, GA 30338
8:00 AM to 6:00 PM on Thursday, March 5
Inbound marketing techniques and strategies continue to grow because consumers and business buyers are researching and making purchasing decisions online. The term, inbound marketing refers to strategies and techniques that generate qualified business leads by attracting, engaging, building and nurturing relationships through content that ranks highly in search engines while it addresses and responds to the specific interests of prospects and customers.
Atlanta's sales and marketing professionals are invited to network, collaborate, and learn through workshops and presentations by industry leaders including:

Sales and marketing professionals are invited to register for this event online at http://www.InboundMarketingDayAtlanta.com
The six Inbound Marketing Day Atlanta area hosting companies: 98toGo, DCD Agency, Ingenium Marketing, Marsden and Associates, MLT Creative and Wakefield PR provide a variety of marketing, public relations, content development and inbound services to their clients.