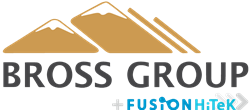 Our commitment to what these associations do and our passion to provide them the technologies they need to innovate and align mission to strategy, will prove beneficial to the Fusion clients becoming Bross clients
Denver, Colorado (PRWEB) February 05, 2015
Bross Group has now entered its 11th year providing IT solutions in Colorado and nationally. To expand on its national presence, the firm has entered into an agreement with FusionHiTek to acquire the New York-based firm's clients, projects, and employees. The majority of the 50+ projects and clients in the Fusion portfolio are associations designated by 501c(3) or 501c(6) status. This market segment is where Bross Group and FusionHiTek have synergy. FusionHiTek has been serving the association market since 1975, and brings a large network and client base to Bross Group. Bross Group has become one of the leading IT solution providers for associations,making this a huge step in furthering its association business practice.
Acquiring FusionHiTek will increase the Bross Group presence on the east coast and nationally. It will push the number of association specific clients to nearly 100. Although Bross Group continues to provide IT solutions to a wide variety of industries, it has determined a clear need exists for IT services in the non-profit association segment. Bross Group has a clear understanding and methodology to serve this segment given its extensive experience managing IT infrastructure, processes, and resources within this niche. The FusionHiTek clients will have an opportunity to leverage these capabilities to further their strategic IT and association initiatives.
"Our organization has been growing by an estimated 35% annually, with many clients being associations." Kathleen Conner, CEO at Bross Group goes on, "It is a natural fit for us to acquire Fusion's technology practice to further this growth. Our commitment to what these associations do and our passion to provide them the technologies they need to innovate and align mission to strategy, will prove beneficial to the Fusion clients becoming Bross clients."
"From our research, consulting, and benchmarking, we have found that growing organizations are struggling to keep up with the volume and pace of digital technology changes." Donald Dea, CEO FusionHiTek and newly appointed Executive VP of Digital Services for Bross Group elaborates, "Bross Group managed services is the right solution enabling associations to manage costs, their infrastructure including association management platforms and day to day technology services, have access to key skills and competencies without the burden of hiring, training, retooling, and have on-demand access to proven digital technology experts."
There is no slowing down for Bross Group. The company is now firmly entrenched coast to coast with clients all over the United States. Expect to see Bross Group to continue exponential growth into the future due to its leadership, commitment to staff and clients alike, and its ability to be innovative in its service offerings.
 
About FusionHiTek
 
The Fusion mission is to vitalize and fortify America's associations and corporations in the critical work they do in our society by enabling premium communication, advocacy, education, and service delivery through world-class meetings, elearning, and through the production of the annual digitalNow summit for association leaders. 
About Bross Group
 
Bross Group is a premier IT consulting and staffing firm dedicated to helping clients across multiple industries with all of their IT staffing and service requirements. Unique intersections of innovative service delivery and robust practice areas enable clients to leverage the best talent and technology in the industry. The Bross Group product and service model is highly adaptable, intensely customizable and uniquely capable of meeting organization's precise requirements. This specialization assists clients to identify and engage the best IT professionals for all of their managed services, consulting, and strategic staffing needs. Years of all-encompassing experience within business intelligence (analytics), association management software (AMS), application development, process management, cloud computing, SharePoint, WordPress, mobile applications, learning management software (LMS), and much more has led many businesses to partner and have their solutions delivered by Bross Group.
###
For more information about Bross Group IT Services visit http://www.brossgroup.com
Contact: Justin Kraft, Director of Marketing, Bross Group, jkraft(at)brossgroup.com, Ph: 303-945-2700
Bross Group // info(at)brossgroup.com // http://www.brossgroup.com // 12600 W. Colfax Ave., Lakewood CO