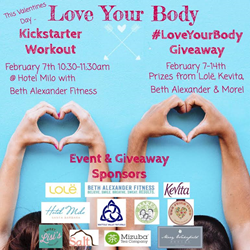 "Hotel Milo is committed to bringing the community and the hotel together through participation in health and wellness programs such as this one," said General Manager Shelley Van Wyk.
Santa Barbara, California (PRWEB) February 05, 2015
It's said that to truly love someone, you have to love yourself first. As Valentine's Day approaches, Hotel Milo Santa Barbara, an Independent Collection hotel, has teamed up with local partner Lolë to encourage locals and hotel guests to do just that by offering a complimentary 'Love Your Body' workout.
The workout begins at 10:30 am on February 7, steps away from the oceanfront hotel on Ambassador lawn, and is free to both Santa Barbara locals and Hotel Milo guests. The workout will also kick off a social media contest called #LoveYourBody in which participants are encouraged to post photos on Instagram and/ or Facebook that illustrate how they love their body.
"Hotel Milo is committed to bringing the community and the hotel together through participation in health and wellness programs such as this one," said General Manager Shelley Van Wyk. "Health and wellness is a hallmark of what it means to be an Independent Collection hotel and also such a priority to Hotel Milo guests."
Led by Beth Alexander Fitness, the 'Love Your Body' workout is a 'Triple A' Program workout, which stands for Arms, Abs, and Other Assets. The workout consists of 20-30 minutes of dynamic stretching, core and foundation training, followed by 20-30 minutes of interval training/circuit-style total body exercises.
Following the workout, samples and goodies will be provided to participants from event sponsors including Lolë, KeVita, Mattole Valley Naturals, Mades3 Bodycare, The Juice Club, Salt, Sweet Lisi's Baked Goods, Mizuba Tea Company, and Mary Wakefield design. Additionally, all 'Love Your Body' attendees will receive 25% off any pink or red attire at Lolë until Valentine's Day.
"'Love Your Body' is a positive message that Hotel Milo is happy to support," said Van Wyk. "This event is only the beginning of a great campaign filled with so many healthful local prizes from other sponsors."
About Independent Collection: The Independent Collection is a growing collection of cultivated and intimate lifestyle hotels located in unique residential neighborhoods of gateway cities across the US. Founded in New York in Tribeca and then Brooklyn, it has grown to Boston's West End, Midtown Village in Philadelphia, Washington's Capitol Hill and Georgetown, and Miami's South Beach across the last five years. This distinctive hotel concept is renowned for its authentic connection to the local communities, personalized service and residential comforts. Independent Collection hotels are created for the independently minded traveler and invite guests to experience the true spirit of the city.
About Lolë: Lolë nurtures the body and mind with fun, feminine, and beautifully designed active wear that's stylish enough to transition instantly from the studio to the street. Designed for today's active urban woman, Lolë collections truly reflect a modern lifestyle, and turn consumption into investment by offering long-lasting, versatile clothing with real value. Lolë stands for Live Out Loud Every day. Born in Canada and still entirely designed in Montreal, Quebec, Lolë clothing can be found at more than 1,500 retail outlets around the world, in Lolë Ateliers and online at http://www.lolewomen.com
About Hotel Milo: Hotel Milo takes inspiration from Santa Barbara's most prolific hotelier, Milo Potter, whose magnificent Potter Hotel put this picturesque coastal destination on the map. One of the most centrally located beach hotels in Santa Barbara, Hotel Milo's lovely 2.5-acre property includes Ambassador Park, a beautiful lawn framed by iconic California palm trees that once served as the grand entrance to the Potter Hotel. Built in the traditional Spanish-style architecture that reflects this city's rich colonial history, this classic Santa Barbara beach hotel features 122 oceanfront guestrooms and suites, as well as a beautiful courtyard with outdoor pools and gardens.