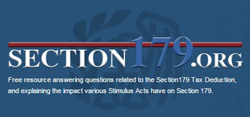 When small businesses can buy equipment and deduct the entire purchase price, it encourages spending, which helps everyone.
Atlanta, GA (PRWEB) February 06, 2015
It's almost become a yearly event for Section 179. The tax deduction – long a favorite of small and medium businesses – starts the year off at a low deduction limit. Then, at some point during the year, Congress raises it.
But the feeling among business people is the increase comes too late in the year for many companies to act (it didn't happen until late December in 2014). This is why http://www.section179.org, the most popular Section 179 informational website, has started a petition asking Congress to raise the Section 179 limits earlier in the year. The goal is to gather 10,000 signatures by April 15th.
"Last year, Section 179 sat at $25,000 for almost the entire year" stated Section179.Org spokesperson Chris Fletcher. "Many companies put off purchases, because the deduction was so small. When Congress finally raised it to $500,000 on 12/19, it left businesses a little over a week, with Christmas smack in the middle, to act. It simply wasn't enough time for many companies."
The petition was launched to speed up what Fletcher sees as an inevitable increase. "The 12/19 raise expired 12 days later, and now we're back to $25,000. But using the past decade as a guide, it's almost a certainty it will be raised, even retroactively, which actually happened in 2012. What everyone would like to see is this inevitable increase happening much earlier in the year. This will give small businesses – the exact businesses Section 179 is designed to help – more time to act" added Fletcher.
To most business people, a higher Section 179 limit helps the economy in general, too. Mark French, president of equipment financing specialist Crest Capital, stated "When small businesses can buy equipment and deduct the entire purchase price, it encourages spending, which helps everyone. The company receiving the equipment and the deduction benefits, the equipment manufacturer benefits, the distributor benefits, the shipping company and installers benefit, and so on – it's a clear domino effect."
To sign the petition, business people are encouraged to visit the Section 179.org website at http://www.section179.org.
About Section179.Org - founded by finance and tax professionals to serve as a comprehensive resource to direct their clients (and anyone else looking for Section 179 information). With comprehensive Section 179 information written in "plain English" and tools like an updated Section 179 calculator, the site has proven to be successful in answering almost any Section 179 question a businessperson could have. It is also continually updated, bringing business people the latest information on this important tax deduction.