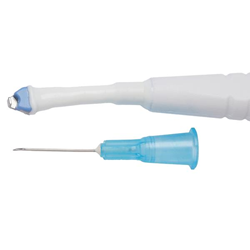 "Including flow in my surgical approach gives me a high degree of control over surgical outcomes." Dr. Fady Charbel
Ithaca, NY (PRWEB) February 05, 2015
Plastic, reconstructive and hand surgeons now have access to a precision flow measurement tool to intraoperatively assess anastomotic patency in microvascular and lymphatic vessels. Engineering innovations by Transonic Systems, the leader in transit-time flow measurement, now allow their newest Flowmeter, the Optima®, to measure flows as low as 0.1 mL/min, in vessels as small as 0.5 mm.
The Optima® meter and its companion new microsurgical flowprobe line provide immediate, quantitative flow measurements to help the surgeon detect and correct otherwise undetectable flow restrictions – critical in procedures where flow restoration is key to a successful outcome. A study by Selber et al, from The University of Texas MD Anderson Cancer Center, concluded that transit-time flow volume "provides novel physiologic flap data and identifies flawed anastomoses...These data have clinical value in microsurgery and hold the potential to reduce microvascular complications and improve outcomes."¹
On this achievement, Transonic founder Cor Drost notes, "Cardiac, cerebrovascular and transplant surgeons have relied on transit-time flow measurements to determine vessel patency for years – we are extremely excited to now be able to bring this unprecedented measurement resolution capability to surgeons who are performing very complicated microvascular procedures."
About Transonic: Transonic Systems Inc. is a global manufacturer of innovative biomedical measurement equipment. Founded in 1983, Transonic sells gold standard transit-time ultrasound flowmeters and monitors for surgical, hemodialysis, critical care, perfusion, interventional radiology and research applications.
1 Selber JC, Garvey PB, Clemens MW, Chang EI, Zhang H, Hanasono MM, "Prospective Study of Transit Time Flow Volume (TTFV) Measurement for Intraoperative Evaluation and Optimization of Free Flaps," Plast Reconstr Surg. 2013; 131(2): 270-81.
###