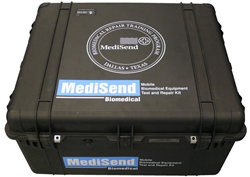 "West Africa is in desperate need of continued support crucial for the reconstruction of its healthcare systems," says Nick Hallack, President and CEO of MediSend International
Dallas, Texas (PRWEB) February 06, 2015
MediSend International has delivered two MediSend Mobile Biomedical Equipment Test and Repair Kits™ to hospitals in Liberia and Sierra Leone. The mobile repair laboratories will provide critical tools for Chevron sponsored technicians who were trained at MediSend's Biomedical Technology School in Dallas, Texas. Well-equipped, professionally trained technicians can repair and maintain life-saving equipment immediately and onsite, rather than wait for repairs to be made elsewhere, and at exorbitant cost.
Valued at $20,000 each, the mobile laboratories were delivered to Connaught Hospital in Freetown, Sierra Leone and JFK Hospital in Monrovia, Liberia where MediSend trained technicians currently work. The labs contain over 4,000 repair tools, supply items and state-of-the-art calibration and test equipment critical to the repair and maintenance of biomedical equipment typically found in hospitals and clinics in developing countries like Sierra Leone and Liberia.
"West Africa is in desperate need of continued support crucial for the reconstruction of its healthcare systems. Before the Ebola crisis, hospitals were already ill-equipped to handle community healthcare. The crisis served to put more stress on a broken system, exhausting the equipment with intense use and subsequent lack of maintenance and repair. Thanks to Chevron's Community Investment partnership, our trained and equipped technicians will help to rebuild devastated hospital capacity."
Airlink, a 24/7 humanitarian response organization that links airlines and qualified non-profits, transported the Kits.