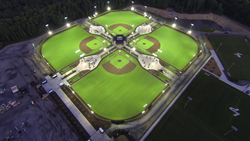 The advanced technology of Shaw Sports Turf allows us to play on a world-class field just 10 minutes down the road from campus,
Emerson, Georgia (PRWEB) February 05, 2015
The Georgia Highlands College baseball team is set to open the 2015 season on its home turf this Saturday.
The school, which doesn't have its own field, will play its 2015 home games at LakePoint Sporting Community in Emerson, Georgia. The team will play twenty-nine home games on a synthetic turf field by Shaw Sports Turf.
"The advanced technology of Shaw Sports Turf allows us to play on a world-class field just 10 minutes down the road from campus," Georgia Highlands Head Coach Mike Marra said. "With this baseball facility, we will be able to confidently recruit top prospects and contend for championships in a first-rate environment. For Charger fans, the LakePoint facility will provide a comfortable and convenient setting to enjoy the excitement of the game. This world class venue will also enable us to host top programs from all over the nation as well as NJCAA tournaments, bringing national prestige and recognition to our programs right here to Bartow County."
The Chargers began practicing at the facility in January. LakePoint, when finished, will include 1,200+ acres of sports venues, commercial, retail, and entertainment options.
Perfect Game South is located at LakePoint and has been hosting the bext up-and-coming players in the nation since last June. In fact, when the facility opened the first four Shaw Sports Turf fields, on June 5, Perfect Game hosted 55 consecutive days of tournaments, with 1,380 games on those four fields. There were no delays of cancellations due to weather. Since those initial 55 days, there have been hundreds more games and the fields still look and perform like world-class fields.
The Shaw Sports Turf baseball fields at LakePoint utilize the TruHop system designed by Shaw's R&D team, in conjunction with former Atlanta Braves pitcher, and newest Hall of Famer, John Smoltz.
"As Perfect Game continues to expand into college baseball this was the perfect opportunity for us," said Kevin Herlihy of Perfect Game. "Partnering with Coach Marra and Georgia Highlands is good for the community and good for baseball. Coach Marra has a great track record of building programs from scratch; we see Georgia Highlands being no different. I think we have the chance to be part of something special."
The second year program opens play at LakePoint with doubleheader against Roane State on February 7. Georgia Highlands will play single games against Cleveland State and Piedmont (Feb 10-11), Chattanooga State (Feb. 13) and Shorter (JV, Feb. 18), plus a doubleheader versus Chattahoochee Valley CC (Feb. 21). The February home schedule rounds out with a set of home games against Central Alabama CC (Feb. 24) and a doubleheader with Indian Hills (Feb 28).
The conference home schedule is slated to start March 3 with a single game versus South Georgia. Conference play at home picks back up March 13-14 against in-state foe ABAC. March 20-21 will see the Chargers square off with Andrew College. A single game with out of conference opponent Cleveland State on March 25 rounds out the March home schedule.
Marra's Chargers return home April 3-4 to take on Darton. East Georgia will come check out the turf on April 7. Conference play continues at home April 17-18 versus Georgia Perimeter. Gordon visits the Chargers for a set of games April 23 and 25, concluding the home schedule.
About Shaw Sports Turf
A wholly-owned subsidiary of Berkshire Hathaway Inc., Shaw Industries is a full flooring provider to the residential and commercial markets. Shaw supplies carpet, hardwood, laminate, resilient, and tile/ stone flooring products, as well as synthetic turf. Shaw Sports Turf is one of the leading synthetic turf companies in North America and has represented quality and innovation for more than two decades with over 1,500 successful installations, including an impressive list of high-profile field installations. For more information please visit http://www.shawsportsturf.com, call 866-703-4004 or find us on Facebook.