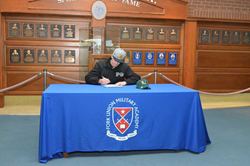 "It's like a national holiday here at Fork Union," notes John Shuman, longtime head coach of the school's postgraduate football program.
Fork Union, Virginia (PRWEB) February 05, 2015
Each year, the first Wednesday in February is a big day at Fork Union Military Academy. "It's like a national holiday here at Fork Union," notes John Shuman, longtime head coach of the school's postgraduate football program. He's referring to the event known as National Signing Day, the first day that high school athletes can sign their National Letter of Intent committing to attend a specific college and play football the upcoming fall, often in return for sizable athletic scholarships. Each year, Fork Union helps dozens of its players from its prep and postgraduate teams make their way to college to play at the next level. This year was no exception, as more than thirty athletes made known their college commitments. And, as usual, there were some great stories.
While the school's postgraduate program garners a great deal of national attention because of the high caliber of players it has produced over the years, such as current national champion quarterback Cardale Jones and past Heisman Trophy winner Vinny Testaverde, the regular high school prep football team never lacks for talent. This year it was senior Micah Keels of Washington, DC representing the prep team at the school's National Signing Day ceremony, as he signed his commitment to play for the prestigious University of Richmond.
And for those who mistakenly suspect Fork Union's renowned college prep program is simply a football factory, they might want to take a look at Keels' transcript. His previous schools might have placed him in classes like Painting and Intermediate Handbells, but in the past year and a half he's been at Fork Union, he's not only improved his grade point average significantly, he's done so while taking classes like Honors Spanish IV, Honors Physics, and Advanced Algebra and Trigonometry. "He's definitely dug in here academically," the school's Academic Dean, COL Todd Giszack notes wryly. Keels is currently pulling an A in Statistics.
Another very special story is Nicholas Schrage, an outstanding kicker/punter who received multiple offers including one from the University of Miami in the city where he was born. But Schrage decided that life is bigger than football and signed today to play for Army at the US Military Academy at West Point. "It really was hard to say no to the University of Miami, because I am a Miami native," said Shrage in describing his choice. "But having come to Fork Union, I found my priorities in life and what really was important. I felt that overall, in what I really wanted to do in life, what I wanted to pursue, there was no better option than to go to West Point. I couldn't be happier. This is the best day of my life."
Two Fork Union players are seeking to follow in their father's footsteps, each joining the University of Virginia Cavaliers in the fall. Trenton Jenkins, an offensive lineman, and Austin Petty, a linebacker, have both chosen to commit to the Wahoos as walk-ons, not letting the school's full scholarship roster keep them from playing on the same field as their fathers. Joe Jenkins was the team's punter in the mid-1970s, and Howard Petty put his name in the record books for the most rushing yards by a freshman running back. Those are big shoes for each young man to fill, but they each express excitement at the opportunity to continue the family legacy.
In all, just over thirty players have made their commitments to college so far, as of this first day of the signing period, but Coach Shuman expects more players to be placed in college programs in the days and weeks ahead. Below is the list of currently committed players:
Damen Daniel, DE/TE, Bluefield University
Justin Cates, DT/DE, East Mississippi Community College
Jamal Pickett, RB/DB, Globe Institute of Technology
Thomas Williamson, OL, Liberty University
Eli Farinholt, WR/DB, Michigan State University
Trevor Owens, K/P, Middle Tennessee State University
Santoni Graham, FB/LB, Monroe College
Walter Brantley, DL, Norfolk State University
Wesley Jones, OL, Norfolk State University
Craig Rodwell, OL, Norfolk State University
Cornelius Tyler, DT/DE, Norfolk State University
Homer Barnett, OL/DL, Old Dominion University
Jeremy Cox, RB/DB, Old Dominion University
Harrison Elam, OL/DL, Saint Francis University
Torsten Norberg, OL, Saint Francis University
Jae'lon Oglesby, WR, Southern Methodist University
Olan Abner, DB, Stony Brook University
Mason Phoenix, TE/DE, University of Maine
Donovan McDonald, WR, University of Nebraska at Lincoln
Thomas Doctor, DE/C, University of North Carolina at Charlotte
Khayri Denny, WR/DB, University of Rhode Island
Nasir Jones, DB, University of Rhode Island
Micah Keels, DB, University of Richmond
James Trenton Jenkins, OL, University of Virginia
Austin Petty, LB, University of Virginia
Nicholas Schrage, K/P, US Military Academy at West Point
Xavier Burke, TE/DE, Virginia Tech
Jack Click, QB, Virginia Tech
Yosuah Nijman, DE/TE, Virginia Tech
Steven Peoples, RB/FB/LB, Virginia Tech
Tyrone Barber, RB, West Virginia State University
Video of today's signing ceremony with the players currently on campus can be found on YouTube at this link:
http://youtu.be/u9ovGnPtpXU
You can also see interviews with the family of Micah Keels (http://youtu.be/sS_H7Fvc7RY) and the family of Nicholas Schrage (http://youtu.be/6l6pSubtVuU).
Photos from the signing ceremony can be found in the gallery at:
http://photos.forkunion.com/FUMA2014-2015/February-2015/National-Signing-Day-2015/47329650_32q9Zx