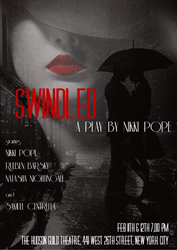 The Strawberry One-Act Festival is like the American Idol for Playwrights ! - NY Daily News
New York, NY (PRWEB) February 06, 2015
The Riant Theatre under the direction of Artistic Director Van Dirk Fisher, has announced its 27th Anniversary season lineup for the Strawberry One-Act Festival, which consists of 27 new one-acts and 3 full length plays that will run February 11th – February 22nd at the Hudson Guild Theatre at 441 West 26th Street, New York City. On Demand Viewing of the Strawberry One Act Festival begins on February 12th.
The Strawberry One Act Festival can be viewed on Mobile Devices, Computers and TV in HD.
After viewing the plays On Demand, viewers will be given an opportunity to vote for Best Play, Best Director, Best Actor & Best Actress.
The Riant Theatre Company's Strawberry One-Act Festival began in 1995 as a competition to help one emerging playwright secure a development deal and develop a full-length play. The event, in its entirety, is a competition in which the audience and invited industry judges cast their votes to select the best play of the season. Twice annually, hundreds of plays from across the country are submitted for the competition. Plays move from the 1st Round to the Semi-Finals and then the Finals. The playwright of the winning play receives a $1,500.00 grant and the opportunity to have a full-length play developed by the Riant Theatre Company. Awards are presented for Best Play, Best Director, Best Actor and Best Actress. In addition, a Youth Empowerment Scholarship Award is given to an outstanding student enrolled in college.
The Award Ceremony & Performance will be on Sunday, February 22nd at 5:00pm at the Hudson Guild Theatre, 441 West 26th Street, New York City. In addition, some of the plays in the festival will be selected for publication in The Riant Theatre Company's anthology: The Best Plays From The Strawberry One-Act Festival: Volume 9.
SERIES A – February 11th & February 12th at 7pm. See On Demand Viewing.
ELAINE STRITCH: STILL HERE By Jay Malsky. Featuring: Jay Malsky & Keith Rubin. Directed by Zak Sommerfield with Musical Direction by Keith Rubin. A performance celebrating the life, the struggles and the music of Elaine Stritch, Broadway's Enduring Dame, as she regales you with songs and stories from her life. Starring Jay Malsky as Elaine Stritch in this one-person show.
A NEW HOME by Harvey Huddleston. Directed by Mark Roberts. Featuring Wanda O'Connell and William Hill. Having been removed from her life-long home to an assisted living facility, a ninety one year old woman tries to understand why she had to come here. Her son tries desperately to explain until a 19th century German poet and Hank Williams come to the rescue.
SWINDLED By Nikki Pope. Featuring: Nikki Pope, Reuben Barsky, Natasha Nightingale & Samuel Centrella. When the love has lost its kindle and desire burns like fire – the evil choose to swindle so the game starts to expire!
EXIT INTERVIEW by Tom Delgado. Where does repression go?
SERIES B – February 11th & February 12th at 9pm
ROLE REVERSAL by Rebecca Stahl. If you had the chance to take revenge for a past event, would you take the opportunity?
ACROSS by Michael Swiskay. Explores the connection between two successful, pretentious and self-absorbed twenty-somethings.
THE WORLD'S BEST THERAPIST By Jack Spagnola. What happens if you and your spouse get set-up on a blind date? A new comedy that explores secrets getting pushed to their limits.
To see the full schedule of plays in the competition, visit the Riant's website.
Full Length Plays include: POSTCARDS FROM HOTEL CASSIOPEIA, A Play With Dance & Music by V. Lee with PHC Company. A play with Dance & Music compelling the artist within to seek and find the "beauty of the commonplace," as inspired by assemblage artist Joseph Cornell. Sunday, February 15th at 2pm; Monday, February 16th at 8pm; Saturday, February 21st at 7pm and Sunday, February 22nd at 1pm.
Viewing the plays On Demand or to purchase tickets to see the plays at the Hudson Guild Theatre, 441 West 26th Street, New York City, can be purchased online at our website or at the box office. Tickets are $25 online and $27 at the Box Office.