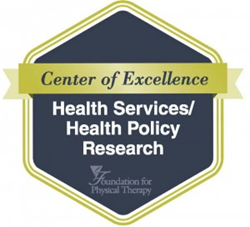 ALEXANDRIA, VA (PRWEB) February 05, 2015
The Foundation for Physical Therapy Board of Trustees is proud to announce a grant of $2.5 million to Brown University (Brown) to establish the Center on Health Services Training and Research (CoHSTAR) over the next 5 years. CoHSTAR will train physical therapist scientists in order to dramatically increase and improve physical therapy health services research capacity, continuing to help make the practice an integral part of today's health care discussion and mainstream medicine.
Specifically, CoHSTAR will offer the multi-institutional research and training program in conjunction with Boston University (BU) and the University of Pittsburgh (Pitt). Brown will provide leadership and administration, while all 3 universities will work together with a 3-part focus on analysis of large data sets, rehabilitation outcomes measurement, and implementation science and quality assurance.
CoHSTAR will offer postdoctoral fellowships, host visiting scientists, and provide special summer training sessions. Each trainee will be paired with a highly experienced mentoring team from one or more of the institutions, participate in immersive research experiences, and have access to other training activities and courses from 26 pertinent graduate programs at the 3 institutions, according to Brown's Linda Resnik, PT, PhD, associate professor of health services, policy, and practice and CoHSTAR principal investigator and director. Additionally, CoHSTAR will fund several high-quality promising pilot studies each year from investigators within and outside the Center. Brown anticipates launching CoHSTAR in June.
"The establishment of CoHSTAR is a tremendous step forward for the physical therapist profession, and we couldn't have come this far without our generous donors," said Foundation Board of Trustees President Barbara Connolly, PT, DPT, EdD, FAPTA. "We are facing the expanded health care world head-on by expanding the number of physical therapist researchers involved in health services research."
"Because of the paucity of physical therapy health services research, we lack evidence about effectiveness, comparative effectiveness, and cost-effectiveness of physical therapy. CoHSTAR will develop a cadre of physical therapy scientists who can conduct health services and health policy research to address our gaps in knowledge in these and other important areas. Ultimately, our research will demonstrate with empirical data the impact physical therapy has on patient outcomes and will be useful for informing practice and policy," noted Resnik. "Dr Vincent Mor, director of the research career and training core, and I are proud that Brown will be at the forefront of this initiative, and we are excited to work with our partners Drs Alan Jette and Mary Slavin at BU, and Drs Anthony Delitto and Kelley Fitzgerald at Pitt, to advance health services and health policy research capacity in physical therapy."
Resnik anticipates that CoHSTAR will train up to 9 postdoctoral fellows and 5-6 visiting scientists, and expose dozens more researchers and faculty members to health services research methods through the center's health services research summer institutes over the 5 years of funding. Faculty participants will help develop health services research curricular materials for use in physical therapy and rehabilitation graduate programs. This will create a trickledown effect by integrating the information into more doctoral programs, thus training scientists who go on to do research and train others.
According to the most recent data, approximately 9 million adults age 18 years and over are treated by a physical therapist every year. The passage of the Affordable Care Act has increased pressure on the system to provide quality health care, including physical therapy, for even more millions of people nationwide. This will have consequences throughout the health care system, whether for payers, patients, or policy makers.
Funding for CoHSTAR, formerly known as the Center of Excellence, came from a $1 million gift from the American Physical Therapy Association (APTA) and gifts from 50 APTA components and physical therapists, foundations, and corporations throughout the country.
About the Foundation for Physical Therapy
The Foundation for Physical Therapy was established in 1979 as a national, independent nonprofit organization, dedicated to improving the quality and delivery of physical therapy care by providing support for scientifically based and clinically relevant physical therapy research and doctoral scholarships and fellowships. Over the last 35 years, the Foundation has awarded more than $16 million in research grants, fellowships, and post-professional doctoral scholarships to more than 550 emerging scientists. Foundation funded researchers have gone on to receive an estimated $725 million in external funding from the National Institutes of Health and other sources. Many of today's leading and emerging physical therapist researchers, clinicians, and academicians began their careers with a grant or scholarship from the Foundation.
Contributions to the Foundation for Physical Therapy are tax-deductible and can be made online at Foundation4PT.org, or sent to its headquarters at 1111 North Fairfax Street, Alexandria, VA 22314. For more information, visit http://www.Foundation4pt.org, email info@foundation4pt.org, or call 800/875-1378.
About Brown University
CoHSTAR's Research Career Training Program Core will be located within Brown University's School of Public Health at the Center for Gerontology and Health Care Research, a nationally renowned center for health services research focusing on chronic illness and long-term care. The center, one of Brown's 11 nationally known centers for public health research, has been an AHRQ Health Services Research training site for over 30 years, and has trained more than 50 interdisciplinary postdoctoral health services researchers to date. CoHSTAR's training core will be co-located with Brown University's Center for Evidence-Based Medicine (CEBM)/AHRQ Evidence-Based Practice Center (EPC). CEBM is the site of a K12 mentored clinical scientist development program (funded in 2014) and a newly funded R25 for a training center for comparative effectiveness research. Brown University School of Public Health, located in Providence, RI, has more than 200 faculty and 275 undergraduate and graduate students, and over $50 million in annual external research funding in 2013.