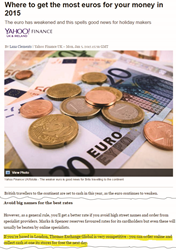 avoiding big-name companies and instead selecting specialist providers for the best exchange rates
London, UK (PRWEB UK) 11 February 2015
Thomas Exchange Global Ltd. was named as a top competitive exchange rate provider by Yahoo Finance early last month for Britons looking to exchange Pounds for Euros during the spring travel season.
Featured in the Yahoo Finance article "Where to get the most euros for your money in 2015" (January 5, 2015), writer Lana Clements identified Thomas Exchange Global Ltd. as a competitive option to buy travel money in London.
"We are very proud that Yahoo Finance endorsed our fantastic rates that we provide to our customers," said Trevor Samuel, Marketing Manager of BestForeignExchange.com, an entity of Thomas Exchange Global. "We strive to provide travellers with the best service possible so they can avoid paying high bank charges while they are enjoying their holiday."
Clements suggests avoiding big-name companies and instead selecting specialist providers for the best exchange rates. Samuel believes that Thomas Exchange Global Ltd is different from many providers because it maintains a transparent policy in pricing and does not charge any commission on travel money.
"All service providers levy various charges on bank cards and just as Lana Clements cites in the article, often holiday travellers are unaware of the charges they endure until they receive their monthly statement from their bank; by which point it is too late," said Samuel. "It is our policy to provide the best deals and most accurate information to our travellers so they are always aware of how much they are spending on travel money. In conjunction with this policy we have decided not to add travel money cards to our product range."
About Thomas Exchange Global
As dedicated foreign exchange specialists, Thomas Exchange Global has the professional expertise, in depth market knowledge, technological infrastructure and commitment to provide an unprecedented level of service that sets the standard in the foreign exchange industry. They are specialists in all areas of foreign exchange. They provide commission free currency as well as travellers cheques.
Thomas Exchange Global also offers International Money Transfer Service where funds can be remitted to overseas bank accounts within 1 to 2 days. With commission free service for transfers over £10,000 backed by competitive exchange rates, customers are assured of a better deal and a substantial saving compared to banks and money brokers.
Thomas Exchange Global branches are located at Strand, Victoria Street, Liverpool Street, Hammersmith, Cannon Street, Wormwood Street and Richmond.
For further details visit http://www.thomasexchangeglobal.co.uk or call 020 7240 1214