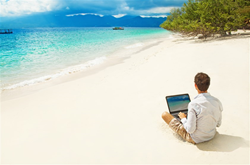 Once someone is online, there is always a risk of some sort.
London, UK (PRWEB) February 06, 2015
From a plethora of social media networks to online chat services that are most likely unmonitored by adults, how safe are children and teens when it comes being online? NoBullying investigates in a series of articles in the spotlight today.
The original premise of creating social media networks was to allow everyone from all walks of life to interact, keep in touch and stay updated on things that interest them. But, NoBullying argues, that with every well-intentioned endeavor, at least one negative aspect rises to attention such as the presence of online predators, cyber bullies and trolls.
Websites and services such as KIK and Omegle allow children to delve into an online chat with strangers or people one hardly knows freely without sufficient monitoring by adults or responsible supervisors, NoBullying warns.
Children and teens can be safe online, according to NoBullying, if the following tips and techniques are implemented and supervised by parents or caregivers. Children and teens, first of all, need to be in constant communication with their parents in a safe welcoming setting about what they see, read, hear or are being offered online.
Also, when it comes to creating social media profiles, private information must be kept at a minimum. One's address, phone numbers, workplace address, family members' names or locations as well as one's current location need not be posted publicly for everyone to see. Privacy is a must online where attempts to invade it are always present, NoBullying asserts.
An important factor to stress is that once something is placed on the internet, it stays online forever, even with applications such as Snapchat, what is considered very private can still be made very public for good. If parents or supervisors feel a particular social network, such as facebook, is causing a child much grief, it wouldn't hurt for that child to delete that account for at least a while.
Even with online dating sites or teen dating sites, caution must always be exercised; there is absolutely no need to share private information or pictures especially if the person hasn't met the other person face to face at least once.
Parents also must always supervise their child's social media use. Children, even on child centered "safe" social media platforms, can be targeted by pedophiles. Parental supervision on the Internet is critical to maintaining children's safety.
Ciaran Connolly, Co Founder of NoBullying says, "Children and teens think that the internet is safe because they can be anonymous all they want. Recent cases of trolling, cyber bullying and identity theft prove otherwise. Once someone is online, there is always a risk of some sort."
He added that parents and teachers should make a point to educate the younger generations about the sad outcome of neglecting one's safety online and offline. According to Connolly, it is quite imperative to press for more firm laws condemning all acts of bullying and harassment.
NoBullying.com features many pages dedicated to parents, teens, teachers, health professionals as well as posts related to cyber safety and the latest news about law making concerning curbing Bullying worldwide as well as inspirational Bullying Poems and famous Bullying Quotes.
The website regularly updates its bullying statistics and cyber bullying statistics as it is essential to understand how widespread the bullying epidemic is. It also regularly runs cyber bullying surveys and questionnaires to get recent updated statistics on everything related to cyberbullying.
He also added that anyone suffering from bullying in any form or way can always find advice and help on the NoBullying website – and if anyone is suffering from severe consequences of bullying or harassment such as depression or suicidal thoughts, the best thing is to talk to someone locally – a parent, teacher or local organization that has been set up to help with specialized councilors to deal with this topic.