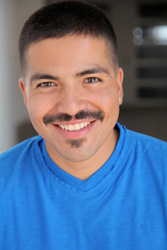 I strongly feel that God gave me a second chance.
Atlanta, GA (PRWEB) February 06, 2015
Thousands of wanna-be performers plunge into New York and Los Angeles every month, hoping for a break. But recently, some entertainers took a different kind of plunge. At the recent Actors, Models and Talent for Christ SHINE Conference in Orlando, 40 new stars for God were baptized. This ground-breaking convention, now in its 33rd year, stood on new ground: specifically the deck of the Gaylord Palms Resort massive swimming pool at 7 a.m. on Saturday morning.
Executive Director Adam She, Dallas Manager Dan Funk, Seattle Team Leader Scott Hamilton and Pastor Orlando Rodriguez from New York baptized 40 new believers: performers, parents and observers, transforming their lives for Christ. "What impacted me the most was the number of people who had previously been baptized, but knew they were not fully committed in their hearts," says Executive Director Adam She.
Two people who were baptized at the SHINE Winter 2015 conference shared their exclusive stories with AMTC.
In December 2008, Jesus Ayala (then 21) was shot in the chest. Two weeks into the new year, he woke up in a hospital room and was told that he died twice and was never expected to survive. "When I died, I saw darkness, and I don't think I was in Heaven. I strongly feel that God gave me a second chance." Ayala says, "I felt in my heart to get baptized. Anything possible to get closer to God." Ayala waited for the opportunity to get baptized for six years, but never felt that the time was right, "until SHINE. I got to the pool and I just knew this was the moment and place. I felt joy in my heart." Ayala, who is in a wheelchair, was helped into the water with tears streaming down many faces. "Finally I was getting baptized. Thank you, AMTC."
Sixteen-year-old Cassandra DeChant attended SHINE with her sister Kailee. She became a Christian around the age of three, but admits that she has struggled to follow God's path for her life. "Previously, when opportunities for baptism arose, I quickly turned them down. I was not ready to commit myself completely to God because I was scared of what that would bring," DeChant says. She attended the 7 a.m. baptism service at SHINE and knew it was her time to take the leap of faith. "I couldn't help but take off my shoes and walk towards the water," she says. "God completely took over my body and gave me clarity about the situation. I just knew it was my time to be baptized."
Founded in 1982, AMTC is a mission and a movement that has a vision is to see the Great Commission of Jesus Christ fulfilled in entertainment. Performers who join the organization have the opportunity to attend the international SHINE Conference in Orlando, Fla. This biannual event is filled with Christian community, VIP seminars, talent showcases and 50-100 industry professionals
For more information, or to sign up for an AMTC audition, please visit http://www.amtcworld.org. Check out more SHINE Winter 2015 baptism pictures at http://www.facebook.com/amtcfans.