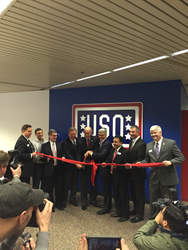 "This is where it happens and this is the pointed edge of the spear of the USO," said J.D. Crouch ll, CEO and President of the USO. "This is where we meet the men and women and their families who we are dedicated to supporting. Its places lik
SEATTLE (PRWEB) February 05, 2015
Community officials and local military leadership joined the United Service Organizations (USO) on their 74th anniversary as USO Northwest (USONW) staff and volunteers welcomed guests into their new 7,500 sq. ft. center in the SeaTac Airport. The area is home to one of the largest concentrations of military personnel in the United States and is home to members from every branch of the military.
A ribbon-cutting ceremony took place and was followed by tours of the new center located above the Delta Air Lines ticketing counters, on the Mezzanine Level. Remarks from guest speakers included: J.D. Crouch ll, CEO and President of the USO; Port of Seattle Port Commissioners Bill Bryant and Courtney Gregoire; and Robert Malone, President of the Employee Community Fund of Boeing Puget Sound.
"This was a day that I could only dream about. When we started going through the process a few years ago, this was still just a dream. The money was hard to come by but we got amazing donors who really stood up to make this all possible," said Hossein Khorram, Treasurer, USONW Board of Directors."
The USO's mission is to lift the spirits of America's troops and their families and USONW will continue that tradition by providing critical support to the more than 600,000 active-duty military and their families annually throughout Washington, Oregon, Idaho and Alaska.
"This is where it happens and this is the pointed edge of the spear of the USO," said J.D. Crouch ll, CEO and President of the USO. "This is where we meet the men and women and their families who we are dedicated to supporting. Its places like this all around the world, over 150 locations all over the globe, which allows us to always be by their side."
From a full-service kitchen, to an enlarged luggage storage space and enhanced entertainment amenities, the new center will provide a touch of home for service members and their families as they travel through the SeaTac Airport and beyond. Travel assistance, sleeping facilities, showers, meal/snacks, a lounge, gaming equipment, free Wi-Fi, computers and a separate family room will all continue to be recognizable services, but in a more comfortable and inviting space.
Highlights of the new center will also include the installation of the original teakwood decking from the World War II battleship, the USS Colorado (BB-45), as well as a Patriot Wall Brick Campaign, which features over 300 commemorative bricks from loved ones to those who previously or currently serve in the military.
USONW first began its efforts to transform the center in 2012 with the launch of the Enduring Support Campaign. The campaign received tremendous financial support from over 400 groups, businesses and individual donors and ultimately raised over $1.5M in funds or in-kind donations to make the expanded center possible. Three of the largest contributors were the Employee Community Fund of Boeing Puget Sound, the USO Board of Directors and the Ellison Foundation, which matched the Board of Directors donation.
"Our organization made a commitment almost three years ago to never allow another military member to be turned away at SeaTac Airport because our center was too small. Today that commitment becomes a reality," said USONW Executive Director, CDR Don Leingang, US Navy (ret.). "This new USO Center will allow us to provide no less than the very best services to our military and their family members."
With support from USONW staff and volunteers, the new center will continue to be open to visitors 24 hours a day, seven days a week and 365 days a year.
Click here to view photos from the event. For more information about USO Northwest, visit us online at http://www.usonw.org/.
###
About the USO
The USO lifts the spirits of America's troops and their families millions of times each year at hundreds of places worldwide. We provide a touch of home through centers at airports and military bases in the U.S. and abroad, top quality entertainment and innovative programs and services. We also provide critical support to those who need us most, including forward-deployed troops, military families, wounded warriors, troops in transition and families of the fallen. The USO is a private, non-profit organization, not a government agency. Our programs and services are made possible by the American people, support of our corporate partners and the dedication of our volunteers and staff.
In addition to individual donors and corporate sponsors, the USO is supported by President's Circle Partners: American Airlines, AT&T, BNSF Railway, Clark Construction Group, LLC, The Coca-Cola Company, JCPenney, Jeep, Johnson & Johnson, Kroger, Northrop Grumman Corporation and TriWest Healthcare Alliance and Worldwide Strategic Partners: BAE Systems, BIC, The Boeing Company, ConAgra Foods, FedEx, GEICO, Harris Teeter, Lockheed Martin, Microsoft Corporation, Procter & Gamble, TKS Telepost Kabel-Service Kaiserslautern GmbH & Co. KG and Wawa Inc. We are also supported through the United Way and Combined Federal Campaign (CFC-11381). To join us in this important mission, and to learn more about the USO, please visit uso.org.