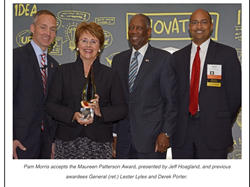 Dayton, Ohio (PRWEB) February 06, 2015
CareSource, a Dayton-based nonprofit health plan announced the selection of President and CEO Pam Morris as the 2014 recipient of the Maureen Patterson Regional Leader Award. The award, presented by the Dayton Development Coalition, acknowledges an outstanding individual or organization demonstrating extraordinary vision and leadership in the community.
"Pam was an obvious choice for this award, her community leadership, sense of social justice, and enterprising nature as the founder of CareSource made her a perfect candidate. We are pleased to honor her servant leadership with this award," said Jeff Hoagland, President and CEO of the Dayton Development Coalition.
Pam Morris is an innovative leader with an entrepreneurial spirit. She leads one of Ohio's largest health plans, CareSource. Morris is a pioneer in Medicaid managed care and leads a total company workforce of more than 2,000. Morris has been a tireless advocate for ensuring that all citizens have access to high quality and affordable health care coverage. From her early support of the Affordable Care Act to the expansion of Medicaid in Ohio, her advocacy has helped millions receive health care benefits, many for the first time in their lives. She has a passion for serving the underserved and a strong commitment to Dayton's success.
The Coalition presented the award during their annual meeting at the Benjamin and Marion Schuster Performing Arts Center.
"The Dayton region has a longstanding tradition of great leaders and I am honored to receive this award named on behalf of Maureen Patterson who has selflessly served our community," Pam Morris said.
The Dayton Development Coalition unveiled the Maureen Patterson Regional Leader Award in 2013. Patterson devoted much of her career to helping businesses in the Dayton Region through her work at the Coalition and the Dayton Area Chamber of Commerce.
About CareSource
CareSource, a nonprofit health plan is celebrating 25 years as one of the nation's largest Managed Medicaid Plans. Headquartered in Dayton, CareSource serves more than 1.4 million consumers in Ohio, Kentucky and Indiana. CareSource is living its mission to make a difference in our members' lives by improving their health and well-being. CareSource understands the challenges consumers face navigating the health system and works to put health care in reach for those it serves.