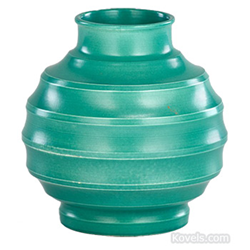 (PRWEB) February 06, 2015
Kovels' Top 20 list of antiques and collectibles is based on the results of hundreds of thousands of searches that took place on Kovels.com. During January 2015, collectors were searching for prices of: 1) Fenton, 2) Occupied Japan, 3) Coca-Cola, 4) Stoves, 5) Dinnerware, 6) Wedgwood, 7) Pottery, 8) Depression Glass, 9) Delft, 10) McCoy, 11) Capo-Di-Monte, 12) Lamps, 13) Hull, 14) Purses, 15) Banks, 16) Satsuma, 17) Haeger, 18) Lighters, 19) Scales, and 20) Cash Registers.
Local antiques dealers report that sales have been doing very well since the Christmas holiday rush. Lots more has been selling online. Antique wedding gifts are becoming more popular. Buyers want to give gifts that are better quality, have sophisticated design, a "story" or a history and sell for less money than new, like a 1920 Orrefors glass vase or a Waylande Gregory platter.
Old big and brightly colored "statement" pieces are still popular. There's little interest in small, fussy things that are set on shelves but don't have use, like figurines. Many buyers are looking for modern vases for flower arrangements. Best investment is to buy a "named" piece by a significant potter like Wedgwood's Keith Murray (whose vase is pictured), but low-budget pieces by lesser-known artists, or even art students, are okay as long as they have the "look." Collectors like other designer things too, especially costume jewelry and purses. Buyers look for top named "fashion" items, or things that look like top fashion items, like jewelry by Trifari and accessories by Chanel. They're often found in consignment shops and they're bought to be used.
Collectors who go to Kovels.com can buy knowing the identifying features, marks and prices of antiques and collectibles. Kovels.com and the book, "Kovels' Antiques and Collectibles Price Guide," list thousands of collectibles in hundreds of categories that are described, edited, priced and pictured.
Terry Kovel is America's foremost authority on antiques and collectibles. She is the well-known syndicated columnist and author of more than 100 books on antiques and collecting. With her daughter, Kim Kovel, she co-authors the best-selling annual "Kovels' Antiques and Collectibles Price Guide." The all-new 2015 edition is available in bookstores and online at KovelsOnlineStore.com. Both Terry and Kim are collectors, who will discuss antiques and collectibles topics with accredited media. Photographs are available. Contact pr(at)kovels.com.
About Kovels.com
Kovels.com, created by Terry Kovel and Kim Kovel, provides collectors and researchers with accurate, up-to-date information on antiques and collectibles. The company was founded in 1953 by Terry Kovel and her late husband, Ralph. Since then, the Kovels have written some of America's most popular books and articles about antiques, including the best-selling "Kovels' Antiques and Collectibles Price Guide," now in its 47th edition. The website, Kovels.com, online since 1998, offers more than 1 million free prices, and includes a free weekly email,"Kovels Komments." It gives readers a bird's-eye view of the market through the latest news, auction reports, a Marks Dictionary, readers' questions and answers and more.
Contact Information:
Liz Lillis
216.752.2252
Pr(at)kovels(dot)com