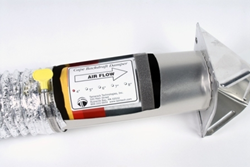 Clothes dryers are an essential, time-saving aid to busy homeowners. They also can create a hidden fire hazard if not properly cleaned and vented.
Buzzards Bay, MA (PRWEB) February 10, 2015
Tamarack Technologies CEO Tom Colasanto today announced the introduction of the new Cape Backdraft Damper, a versatile product that can be used throughout the house to passively regulate airflow. When inserted into a dryer's exhaust hose, the Cape Backdraft Damper keeps lint and other flammable materials from blowing back into the dryer's heater from the outside vent thus minimizing the potential of a fire.
Damages from fires of this type are "staggering" according to Colasanto. During a recent four-year period, dryers accounted for one in every 22 home fires. In 2010 alone there were 16,800 dryer-related fires resulting in injury or death and $236 million in direct property damage.
There are a number of recurring causes of dryer fires: Failure to clean lint from ducts; bends or kinks in flexible duct hoses trapping lint and other flammable materials; and backdrafts that blow lint and flammables back into the dryer.
"Dryer fires are a real danger but they seem to fly under the radar of homeowner awareness," Colasanto said.
"Because dryer use generally increases in the winter, this subject is both timely and important -- even critical -- to many homeowners," he added.
"This is a very good time for homeowners to consider not just our Cape Backdraft Damper but other products that can work to minimize dryer fire hazards. The good news is there are a number of products available to homeowners that are effective, inexpensive and easy to install. They complement our Cape Backdraft Damper and when used together create a much safer environment," Colasanto said.
Nothing cures a lint build-up problem better than regular cleaning, but it's not usually top-of-mind with most homeowners. Fortunately, there's LintAlert from In-O-Vate (http://www.inovate.com), a product that continually monitors dryer exhaust performance. It warns when lint build-up is wasting energy and sounds an alarm when blockage becomes dangerous.
As mentioned, backdrafts into the ventilation pipe and proper exhaust out from the dryer are easily handled by the Cape Backdraft Damper from Tamarack Technologies (http://www.tamtech.com). This innovative product features a specially formulated fabric sleeve within an outer metal jacket allowing maximum airflow in the desired direction and closing with minimal pressure in the opposite direction, stopping cold air from entering the home. Due to the damper's unique design and materials, backdrafts can't push lint back into the dryer.
Bends or kinks in the dryer's duct hose restrict the flow of air from the dryer to its exhaust pipe often trapping lint in the twisted hose. To keep a dryer and its connecting duct hose tight to the wall while maintaining its shape and integrity a simple in-wall unit called Dryerbox (http://www.dryerbox.com) does the job.
In addition to these potentially lifesaving products, the National Fire Prevention Association (NFPA) offers these nine common sense safety tips:

Have your dryer installed and serviced by a professional.
Do not use the dryer without a lint filter.
Make sure you clean the lint filter before or after each load of laundry. Remove lint that has collected around the drum.
Rigid or flexible metal venting material should be used to sustain proper air flow and drying time.
Make sure the air exhaust vent pipe is not restricted. Once a year, or more often if you notice that it is taking longer than normal for your clothes to dry, clean lint out of the vent pipe or have a dryer lint removal service do it for you.
Keep dryers in good working order. Gas dryers should be inspected by a professional to make sure that the gas line and connection are intact and free of leaks.
Make sure the right plug and outlet are used and that the machine is connected properly.
Follow the manufacturer's operating instructions and don't overload your dryer.
Turn the dryer off if you leave home or when you go to bed.