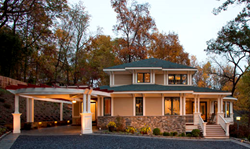 Awards like this are a great way to highlight the diversity of our design and construction capabilities. We love the challenge of architecturally driven projects where the solution transcends utility to become art
Kensington, MD (PRWEB) February 05, 2015
The Pagenstecher Group is pleased to celebrate their 2014 Chrysalis Award. Sponsored by two prominent home design and remodeling magazines; "Qualified Remodeler" and "Kitchen and Bath Design News", this prestigious award acknowledges remodeling firms that demonstrate excellence in both design and craftsmanship.
The project's focus was to design an open-air parking structure that would act as a transitional space linking the house to its surrounding landscape. What is most unique about this design is its ornate, pergola-style, curved roof, and use of locally sourced, natural materials. A complex structural endeavor, Pagenstecher Group craftsmen pre-fabricated the curved structure in their warehouse to ensure each component fit perfectly when installed on site.
"We have been working with this client on various projects for over 20 years," said Michael Ullrich, Pagenstecher Group Principal Architect. "After completely renovating the main house several years ago, we discussed future plans to construct a garage and guest apartment. However, as years passed, the owner realized she did not necessarily need the extra space. Instead she decided to do something a bit more unique. The resulting design is as functional as it is beautiful, " Ullrich explained.
Pagenstecher Group is proud to have won the 2014 Chrysalis Award. "Awards like this are a great way to highlight the diversity of our design and construction capabilities. We love the challenge of architecturally driven projects where the solution transcends utility to become art," said Ullrich.
About Pagenstecher Group
Pagenstecher Group combines professional design services with in-house building teams. The power of this integration propels the firm forward in both artistry of design and sophistication of construction, allowing for consistent delivery of unique design and remodeling projects on time and on budget. To learn more, visit pagenstechergroup.com