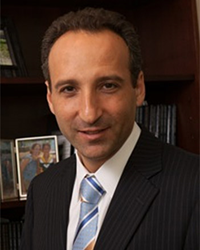 Newburgh, New York (PRWEB) February 05, 2015
Dr. Ran Y. Rubinstein, one of the most respected laser and facial plastic surgeons in New York, has been named by Allergan a Diamond provider of aesthetic procedures. Only the top 3 percent of cosmetic surgery practices in the U.S. have been given this prestigious honor.
Achieving Diamond status speaks to the high level of care that is afforded to Dr. Rubinstein's patients. It also elevates Dr. Rubinstein's practice as an elite leader in providing such injectable treatments as Botox Cosmetic, Juvederm, and Juvederm Voluma. Dr. Rubinstein is one of the most sought after physician trainers in the northeast, in both laser procedures and injectable treatments including Botox, Liquid Lifts, Juvederm, Voluma, Sculptra, Restylane Silk.
Dr. Rubinstein has always been on the cutting edge by introducing new technology and treatments to his patients as well as to other physician such as the Laser Lift, liquid lifts, non surgical skin tightening, and most recently CoolSculpting.
Dr. Rubinstein is one of the top cosmetic surgeons in New York and is double board certified by the American Board of Facial Plastic Surgery and the American Board of Otolaryngology-Head and Neck Surgery. He is also an active member of the American Society for Laser Medicine & Surgery. Dr. Rubinstein brings to his practice a diverse background and expertise in cosmetic and reconstructive surgery of the eyes, face, neck, and head. Furthermore, he has been an assistant professor at the very prestigious Columbia – New York Presbyterian Hospital for over 15 years where he has participated in training future surgeons. Dr. Rubinstein has been recognized by his peers as one of the leading trainers for esthetic laser & injectable procedures.
After obtaining his medical degree from Albert Einstein College of Medicine, Dr. Rubinstein completed a residency in otolaryngology/head and neck surgery at the University of Medicine and Dentistry at New Jersey. He went on to complete intensive fellowship training at the University of South Florida in facial plastic surgery. Dr. Rubinstein has been in both private and academic practice for over 15 years.
To learn more about Dr. Ran Y. Rubinstein and his Newburgh, New York practice, please visit http://www.yourfacemd.com.
Laser & Cosmetic Surgery Specialists, PC
200 Stony Brook Ct #2
Newburgh, NY 12550
845-863-1772