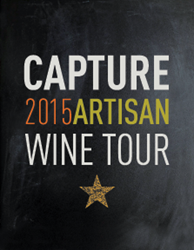 Capture Artisan Wine Tour is a twelve city celebration of the senses that pairs stand-out artisan wines and sommeliers with the cuisines of local celebrated chefs and culinary stars.
National (PRWEB) February 06, 2015
Capture Lifestyles is proud to announce the launch of the first annual Capture Artisan Wine Tour - a twelve city celebration of the senses that pairs stand-out artisan wines and sommeliers with the cuisines of local celebrated chefs and culinary stars.
A swift departure from traditionally staid wine events, Capture Wine Tour transforms the country's hottest venues into an epic urban affair filled with great music, sensational food and spirits, and a vibrant crowd of passionate tastemakers, wine fans, local influencers, and more. Thousands of guests in each city will meet and mingle with rebel winemakers and wine country entrepreneurs, experience beautiful wines from more than forty next-big-thing wineries, and taste the savory farm-to-table flavors of dozens of progressive local restaurants. In addition, Capture Wine Tour is designed to give back to the community through partnerships that support local food banks.
Kicking off this April, Capture Wine Tour will travel to the following major cities in 2015:
Washington DC
Dock 5 at Union Market
April 10 - 11
New York City
The Waterfront
April 24 - 25
Atlanta
American Spirit Works
May 15 - 16
Miami
Moore Building
May 29 - 30
Chicago
Great Hall at Union Station
June 12 - 13
Boston
The Castle at Park Plaza
June 19 - 20
San Francisco
Terra Gallery
September 25 - 26
Los Angeles
Magic Box at The Reef
October 2 - 3
San Diego
NTC at Liberty Station
October 16 - 17
Phoenix
The Croft Downtown
November 6 - 7
Dallas
Sixty Five Hundred
November 6 - 7
Houston
Warehouse Live
November 13 - 14
For city and ticket information, or to learn more about Capture Wine Tour and the rising stars helping to bring this revolutionary new wine experience to life, visit http://www.capturewinetour.com.
ABOUT CAPTURE ARTISAN WINE TOUR
Capture Artisan Wine Tour was created to introduce undiscovered wineries and unique but affordable wines to consumers outside of wine country. Many smaller, high quality wineries are now electing to bypass the national three-tier distribution system entirely and sell direct-to-consumer through their tasting rooms and wine club allocations. This means many of the country's wonderful wines will never be represented in local wine shops or supermarkets.
Capture Wine Tour is our way of bringing a hand-curated portfolio of beautiful and otherwise unobtainable wines to the major wine consuming metros. Each vintner has agreed to open its allocation to our guests, providing an unprecedented exclusive opportunity for the individual consumer to access these hidden gem wines.
ABOUT CAPTURE LIFESTYLES
Capture Lifestyles was founded by seasoned veterans of the wine and culinary industries to create unique, memorable experiences that merge artisan wines, cuisines, spirits, and independent music. Our first project, the Capture Artisan Wine Tour, re-imagines wine tastings and delivers high-energy social events that bring together true wine lovers, cutting-edge winemakers, star chefs, and top sommeliers for a celebration of hand crafted wines paired with the best local farm-to-table cuisines each city has to offer.
###