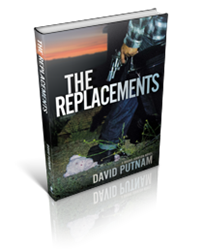 Yesterday's Echo is plotted with a sure hand, and the prose flows fast and crisp like a mountain river. —Suspense Magazine
Longboat Key, FL (PRWEB) February 05, 2015
Oceanview authors David Putnam (THE DISPOSABLES and THE REPLACEMENTS) and Matt Coyle (YESTERDAY'S ECHO and NIGHT TREMORS) will be on hand this Saturday February 7 from 12:00 to 3:00 PM to meet readers and fans, answer questions, and autograph their novels.
David Putnam has just released THE REPLACEMENTS, the second novel in the Bruno Johnson thrillers. The latest novel has received very high critical praise...
"Putnam's thrilling sequel to 2014's The Disposables finds Bruno Johnson, a former L.A. sheriff's cop, settled in Costa Rica with his wife, Marie, and the eight abused children they rescued and took (illegally) from the U.S. Early in his career, Johnson intervened in a violent domestic case and managed to save the life of five-year-old Jonas Mabry. Now an adult, Jonas has kidnapped two young girls and will deal only with Johnson. Johnson is unable to resist the appeal of Montclair, Calif., police chief Barbra Wicks, and returns to California to track down Jonas. Jonas proves to be a diabolically clever opponent as he runs circles around Johnson, leading him down one blind alley after another and forcing him to make desperate moves. Putnam steadily ratchets up the tension, while memorable supporting characters, like the courageous Marie, help engage reader interest."
—Publishers Weekly
"The hero of this rowdy novel made his first appearance two years ago in The Disposables. The sequel makes quick mention of the earlier adventure in an opening chapter, then gets down to the violent life of ex-cop, ex-con Bruno Johnson. The plot motor is a twist on a detective-story standby: a long-forgotten crime surfaces to haunt the hero. But here it's Johnson's good deed that sets things off. In a stunning opening, we flashback to a day when Johnson rescued a child shot by his mother. Now the child is grown up and mean, and he's seeking, for reasons the author withholds till the finale, a nutty revenge. Johnson had hoped for the tamer life of a bartender, but he must go rogue again and, this time, battle thieves and killers before bringing the story home. The narrative charges ahead full tilt, like a bullet train...the action won't slow down, and we're with the story all the way."
—Booklist
Putnam's first novel in the Bruno Johnson thrillers, THE DISPOSABLES, received high recognition and was a finalist in both the SCIBA and USA National Best Book Awards.
Matt Coyle's debut thriller, YESTERDAY'S ECHO received high critical acclaim, and won coveted literary awards including the San Diego Book Award for best published mystery and the Anthony Award for best first novel. Yesterday's Echo won the silver medal in the Ben Franklin Award for Best New Fiction. Coyle's novel was also a finalist in the 2014 MacCavity Award for best first novel.
"Coyle does a superb job of drawing the reader in and keeps a steady pace of action along with solid character development. This celebration of the crime noir novels of old with a modern sensibility in Rick Cahill as hero will strongly appeal to fans of classic hard-boiled PI novels."
—Library Journal (Starred Review)
"Coyle's promising debut introduces ex-cop Rick Cahill, a tarnished knight who battles internal and external demons...Cahill turns out to be both tough and resourceful when forced to confront his past. Readers can hope his future will be brighter."
—Publishers Weekly
"Outstanding debut…Don't miss this one! Wow, thumbs up for Matt Coyle!...Coyle is going to give some of the mystery writers a run for their money."
—Fresh Fiction, April 2013
"Yesterday's Echo is plotted with a sure hand, and the prose flows fast and crisp like a mountain river. It will captivate you so that you don't want to put it down, and you don't want it to end—at least not until the next installment is available."
—Suspense Magazine
Matt Coyle's second thriller, NIGHT TREMORS, is due for release on June 2, 2015, where he brings back protagonist Rick Cahill...
Haunted by a past he cannot flee, Private Investigator Rick Cahill has felt the pain from being wrongly accused of a crime. So, when an attorney asks him to help free an imprisoned man, whom he believes is not guilty of murdering his family, Rick jumps at the chance. The investigation pits him against his mentor, cops who want to put him in jail, and a biker gang that wants him dead. Before Rick can save himself, he must uncover the truth known only to the real killer about what happened one bloody night eight years ago.