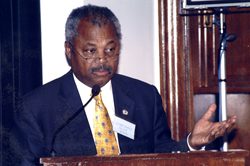 SOUTH ORANGE, N.J. (PRWEB) February 09, 2015
The Archives and Special Collections Center at Seton Hall University's Walsh Library is pleased to announce the acquisition of the Donald M. Payne Papers, a historical manuscript collection of congressional papers from the late Donald M. Payne (1934-2012), New Jersey's first African-American congressman who represented the state's 10th Congressional District in the U.S. House of Representatives from 1989-2012.
"Congressman Payne was a proud Seton Hall alumnus, and the University is honored to be chosen as the home for the records of his time in office," said University Libraries Dean John Buschman. "His work on health issues in Africa, on education and on human rights and social justice were three important themes that he stressed and worked on continuously in his two-plus decades in congress. His papers are sure to be of interest to both researchers and the general public alike."
Rep. Payne's son, the Honorable Donald M. Payne, Jr. who represents the 10th Congressional District of New Jersey in the U.S. House of Representatives, says Seton Hall University is the natural home for his father's collection.
"Seton Hall and the Village of South Orange are located in the 10th District where my father represented his constituents tirelessly for 24 years in the U.S. Congress. I know he would want us to donate this treasured collection to his much-loved alma mater so they could be made available to students, researchers and scholars interested in the work of Congress," said Payne, Jr. "My father lived a fascinating and fruitful life, dedicated to human rights and conflict resolution. Anyone reviewing the collection will find insight and inspiration, not only through my father's work as a Congressman, but his life-long passion and dedication to making the world a better place. It is the hope of my family that others will use his life as an example and follow their own dreams, talents, and goals to create a legacy like his."
The Donald M. Payne Papers is a vast collection of more than 13,000 items – legislative documentation, research files, news clippings, photographs, audio-video recordings and USB flash drives – that chronicles Rep. Payne's influence and impact in foreign affairs, including Somalia and other countries in Africa, Northern Ireland, Bosnia, Haiti and many other politically-sensitive locations around the world. It includes documents on major federal legislation in which he was involved such as increasing education grants for students, reducing interest rates on college loans, and famine relief to the Darfur region of Sudan as well as on his work to secure billions of dollars in foreign aid for treating H.I.V., AIDS, tuberculosis and malaria. It also documents the many projects and issues he took on for his 10th District constituents, including air noise, jitney service, college funding, the Montclair Art Museum and police funding, among others.
William Payne, the late congressman's brother, says the collection is a treasure trove for researchers or anyone interested in the work of Congress over the past two decades. "People who are doing graduate study or research on world events will find important primary source documents in this collection," he said. "My brother was a player on the world stage. Here was someone who had a major impact on the conflict in Northern Ireland, in Africa and at home. He was committed to trying to make this a better world. He started in Newark and took it around the world."
With the acquisition of the Payne papers, Seton Hall University now houses the papers of the past two congressmen who represented New Jersey's 10th District. The Peter W. Rodino, Jr. Archives at the Seton Hall University School of Law in Newark, N.J. consist of documents and other materials from the 40-year political career of Rep. Rodino (1909-2005), as well as his tenure as a professor at Seton Hall School of Law. He represented the 10th district from 1949 – 1989 and was succeeded by Donald M. Payne.
"The materials offer insight into one congressional district over more than six decades," said Buschman. "With the addition of the Payne papers, we have the papers of a recent congressman involved in recent policy. Documents such as these are not always available to the public so quickly."
The Donald M. Payne Papers collection is available at the Archives and Special Collections Center in the Seton Hall University Walsh Library in South Orange, N.J. The materials are stored in separate folders in more than 100 boxes and can be accessed via a finding aid. They are available for viewing by appointment by calling 973-761-9476 or emailing brianna.losardo(at)shu.edu.
http://academic.shu.edu/findingaids/mss0078.html
ABOUT SETON HALL UNIVERSITY
One of the country's leading Catholic universities, Seton Hall University has been a catalyst for leadership — developing students in mind, heart and spirit — since 1856. Home to nearly 10,000 undergraduate and graduate students and offering more than 90 academic programs, Seton Hall's academic excellence has been singled out for distinction by The Princeton Review, US News & World Report and Bloomberg BusinessWeek.
Seton Hall, which embraces students of all religions, prepares its graduates to be exemplary servant leaders and caring global citizens. Its attractive main campus is located in suburban South Orange, New Jersey, and is only 14 miles by train, bus or car to New York City, offering a wealth of employment, internship, cultural and entertainment opportunities. The university's nationally recognized School of Law is prominently located in downtown Newark.
For more information, visit http://www.shu.edu.