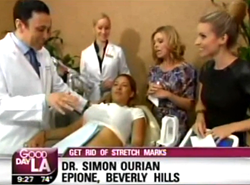 Los Angeles, CA (PRWEB) February 06, 2015
On January 28, 2015, Harper's Bazaar Magazine posted an online article titled "The New Fat Eraser," about UltraShape, the ultrasound device with FDA clearance for treating and reducing belly fat. UltraShape uses a 3-dimensional mapping program to target and direct ultrasound waves at unwanted fat cells. Through a process called cavitation, the fat cell membranes are shaken until they collapse. The body's lymphatic system then naturally processes and removes the dissolved fat cells. (see: goo.gl/Q3as2g)
"At our clinic we also offer LipoFreeze, a treatment protocol that is a combination of CoolSculpting and radio-frequency treatments," says Dr. Simon Ourian, Medical Director of Epione Beverly Hills. "CoolSculpting kills the fat cells and radio frequency energy tightens the skin."
According to the Harper's Bazaar Magazine article, UltraShape delivers results with little pain, bruising, and downtime. UltraShape is designed for people with an extra layer of fat, not for the obese or post-partum women with loose skin. The UltraShape protocol calls for a series of three treatments approximately two weeks apart. Results will become visible in about two weeks.
"I'm always interested in offering our patients the latest technology so long as it offers documented results," says Dr. Ourian. "UltraShape has FDA approval which is an indication of its safety and efficacy."
Dr. Ourian has been a pioneer in laser technology and non-invasive aesthetic procedures including Restylane, Juvéderm, Radiesse, Sculptra, and CoolSculpting. These treatments are used for the correction or reversal of a variety of conditions such as acne, acne scars, skin discoloration, wrinkles, unwanted fat, stretch marks, varicose veins, cellulite, and others. More information about UltraShape can be found on Epione's website.