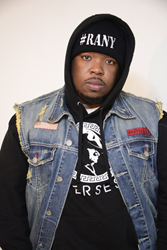 Brooklyn, NY (PRWEB) February 05, 2015
Coast 2 Coast Mixtapes presents the release of the "Shame" Music Video By ThirdLanePrez. This video is currently available to view on the Coast 2 Coast Mixtapes website. The visuals for this project were directed by Ishell Vaughan, being assisted by @KAYTHECREATOR.
Brooklyn based MC Thirdlaneprez revealed his ODB (Ol' Dirty Bastard) inspired record 'SHAME' not too long ago, and follows up with the visuals to compliment the single. Prez combined a catchy hook with a catchy beat, and produced a "Hit Single to last the ages", as he puts it. The underlying track is currently available for purchase on all of the popular online music stores; Itunes, Amazon.com, Spotify, and more.
Stay up to date with Thirdlaneprez on twitter at: @THIRDLANEPREZ
About Coast 2 Coast LIVE:
Coast 2 Coast LIVE tours in over 10 cities every month to bring indie artists major opportunities through our interactive showcase events. Artists submit via the website and get votes to perform in their city, judges critique the artists in various categories to find a winner for every city to take their music career to the next level. For more information, visit http://www.coast2coastlive.com