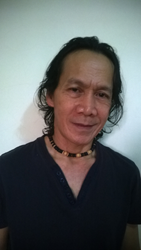 As our local jungles have disappeared, so has the culture that was tied to them.
KUALA LUMPUR (PRWEB) February 07, 2015
The Dayak people are made up of hundreds of different ethnic groups in Borneo, each with their own dialects and customs, but with a unified sense of culture. Unfortunately as time marches forward that sense of culture is diminishing.
Author Peter Wategay brings his roots to light in his new novel, "Coffin for Two." Wategay explores the history of the Dayak people while sharing the deep cultural beliefs in an action-adventure story written in the vein of classic literature.
"The Dayak people were a powerfully spiritual group," Wategay said. "The connections between man, spirits and nature are essential to understanding our history, but as our local jungles have disappeared so has the culture that was tied to them."
As the world becomes truly global, the Dayak people have adopted modern technologies, new agricultural techniques and left their original religions for Christianity or Islam. Wategay provides a peek into their origins while hoping to spark interest in their culture for the next generation.
"Coffin for Two" takes Borneo's history and wraps it into poignant tale of love, bravery and revenge as one Dayak sacrifices everything to avenge his friend's death.
"Coffin for Two"
By: Peter Wategay
SC-ISBN: 978-1-4828-2345-5
SC-Retail price: $24.53
EB-ISBN: 978-1-4828-2346-2
EB-Retail price: $4.99
Available at barnesandnoble.com and amazon.com.
About the author
Peter Wategay has a bachelors degree in philosophy from the University of London as well as a diploma in business studies. He was born and raised in a Dayak mountain village. Wategay is an avid reader of classic literature and channels those influences into his writing to help shed light on the dying animistic culture of his community.
###
**FOR IMMEDIATE RELEASE**
EDITORS: For review copies or interview requests, contact:
Spencer Hotz | 317.602.7137| shotz(at)bohlsengroup(dot)com
(When requesting a review copy, please provide street address.)