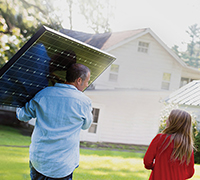 Often times consumers fear arbitrary and misleading ideas about solar
(PRWEB) February 08, 2015
Common consumer beliefs of the downsides of a solar energy system is still lingering in 2015, and companies like BSES are busting those myths with a recent public statement. Many homeowners are worried and a bit intimidated with the idea of installing residential PV systems. Often times consumers fear arbitrary and misleading ideas about solar, and it is simply due to common misinformation according to Dan at BSES. "It is our job as experts to help set the record straight and debunk the negative misconceptions that consumers have on solar in 2015," says Dan. Renewable energy has came a long way since it has gained widespread popularity just a few years ago when it became more affordable for homeowners to use. Folks in 2015 are interested in saving money and living in a cleaner environment but still scared to take the risks that they believe exist. When any consumer makes a renovation or addition to their home, research and attention to detail is crucial. However, detail and attention should be put in the right places and not wasted by worrying on the age old myths of solar. BSES just released a statement debunking the two old misconceptions interested homeowners usually come across when considering getting solar for their homes. Below is an excerpt from the statement.
"Myth: A residential PV solar system can't provide enough electricity year round.
Truth: Solar will provide year round savings and energy one can rely on.
It is true that solar systems do generate more energy in optimal weather condition such as full sun exposure. Residential PV systems are able to conduct up to 25% of their full potential on a completely cloudy day. With a revenue grade meter, homeowners are able to produce extra energy on sunny days and force meters to spin backwards crediting them with free energy from the local utilities to use for free on cloudy days, if needed. These net metering laws have made it possible for consumers to enjoy solar energy savings.
Myth: Solar power panels are too expensive to buy for the average homeowner.
Truth: Solar has become more affordable than ever before in 2015 for a number of reasons.
With today's solar friendly policies established by the federal government, purchasing a residential PV system comes with an immediate 30% tax rebate on the total investment. By putting more money down upfront, homeowners see a faster return on their investment. Homeowners often recover the full invested amount within 5-10 years, with reduced energy payments throughout those years. Past that point, it is all free energy for the homeowner. When homeowners move or decide to sell their home, home equity value is increased dramatically because of the installed systems and there is an opportunity to make money there as well. We at BSES understand not every homeowner wishes to make that upfront investment, so our leasing and financing programs allow consumers to lock in 20 year fixed rates on their systems for $0 down upfront, while still ensuring that the solar rate will remain lower than their current energy bills."