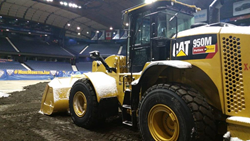 "We are honored to be a part of this exciting event and are thrilled to have more than just heavy equipment on hand."
Rosemont, IL (PRWEB) February 06, 2015
The first "monster trucks" emerged as sideshow attractions at tractor pulling events in the United States. This weekend, the tractors being showcased will be those donated by the Patten Cat Rental Store to help construct the track. This is Patten Cat's third year supporting what has become one of the hottest family entertainment tours in the country.
Creating the Monster Jam track requires more than just dumping a little dirt over the floor. In fact, the track building team, operating Cat equipment, are some of the world's best construction professionals. The track is carefully sculpted and arranged to ensure a high degree of difficulty for the competing trucks. The entire transformation of the event floor is a major construction project.
The Patten Cat Rental Store's partnership with Monster Jam includes use of the reliable Cat 321 Excavator with 48-54" digging buckets attached. Nine other pieces of heavy equipment including a Cat 950 Wheel Loader and a Cat D5 Bulldozer will be needed for the job. "We are honored to be a part of this exciting event and are thrilled to have more than just heavy equipment on hand. We have donated rental heaters, compressed air and man lifts to get the entire venue ready," said John Hofmeyer, Rental Manager at the Patten Cat Rental Store.
From the tractor pulling origins of the monster truck performances to today's event, Cat tractors are behind the scenes making the Monster Truck track improves the entertainment value for the loyal fans. For more information about the Patten Cat Rental Store and our involvement in this project, please visit PattenCat.com.
About Patten Cat: Patten Industries, Inc. (Patten Cat) is the authorized Caterpillar® dealer for 17 Counties of Northern Illinois and 2 Counties in Northwest Indiana. Our goal is to provide you with premium products and solutions at a great value in order to make you successful and maximize your uptime. Patten Cat is headquartered on a 20-acre campus in Elmhurst, IL, with branch locations in Joliet, Oglesby and Rockford, IL as well as Hammond, IN. Our four divisions, Patten Construction Products, Patten Power Systems, Patten Truck Centers and Great Lakes Equipment Co. offer support for over 20 different industries.
About Monster Jam: Monster Jam® is the perfect sports and entertainment brand mixing racing, showmanship and the ultimate fan experience into one incredible, action packed live show. Matched by no other family entertainment property, Monster Jam electrifies crowds with breathtaking stunts and the awesome power of the world's most popular Monster Jam trucks. Over 4 million fans fill the world's premier stadiums and arenas to see the live spectacle with more than 350 performances each year, and with its rapid international expansion, Monster Jam continues to win over more fans in new countries around the world.
###