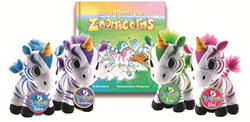 Minneapolis, MN (PRWEB) February 05, 2015
Debuting its brand for the first time at Toy Fair, Zoonicorn combines two of children's favorite animals, unicorns and zebras, in a new plush product line and book series.
Tracked at nearly $1 billion dollars for 2014 by the Toy Industry Association, plush toys hold an important place in toy industry sales. More than just a toy, Zoonicorn, LLC is passionate about developing products that enrich the children's lives in meaningful ways. The colorful zoonicorn--a zebra and unicorn fusion--visits young animals at the zoo while they sleep and joins them on dreamland adventures. The dream play brings to the zoo animals life lessons to help them through whatever might be troubling them.
"Dreams are one place that parents can't go to help their children," said creator Mark Lubratt. "The zoonicorns exist to take anxious young zoo animals on fantastic and encouraging adventures in their dreams in ways that teach them an important lesson that helps them."
Soft and cuddly zoonicorns match every type of child. The Zoonicorn family includes Valeo, the leader of the herd in blue, purple Promithea, who is fun and friendly, pink Aliel is fast and frenzied, and Ene, is green, playful and mischievous.
Zoonicorn will be located at Booth 5845 at Toy Fair and is interviewing publishers, plush and other manufacturers for licensing the Zoonicorn product line. Please contact Mark Lubratt at 651.204.0776 for meetings or interviews at the show.