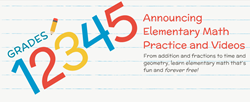 'This new launch will help teachers, parents and students to improve math fundamentals through deliberate practice and helpful videos.' - Neeru Khosla, CK-12 Founder and Executive Director
Palo Alto, CA (PRWEB) February 09, 2015
The CK-12 Foundation today announced the launch of the organization's first free interactive math practice problems and videos for K1-5 grade levels. The new offering is fully aligned to Common Core and represents the first time that CK-12's high-quality content and tools will be available for the full K-12 spectrum. CK-12's new K1-5 Math is designed to help elementary school teachers, students and parents build a strong math foundation to support children's future success in school and careers.
CK-12's free STEM learning platform − created by teachers for teachers − is used in more than 30,000 schools worldwide and will now include a wide range of practice problems with video-based hints and step-by-step solutions. Challenging students to practice through multiple problems for a concept is expected to help deepen their understanding and provide teachers with additional resources to engage students. Since all students are different, the CK-12 math content also provides students with several ways of mastering a concept. With its alignment to Common Core, teachers can now find practice problems and videos based on a particular standard.
The new elementary math tools are broken out by grade and include practice problems and videos for core concepts including geometry; addition and subtraction; multiplication and division; time; fractions; and measurement. Each concept is comprised of several lessons. For example, second-grade money lessons include instruction on recognizing money; dollars and cents; converting and counting money; and comparing and arranging money. Every lesson has multiple instructional videos and assessments to provide students with a variety of learning options.
"We've always wanted to provide a full stack of content and tools to improve student learning for K-12 in STEM," said CK-12 Founder and Executive Director Neeru Khosla. "This new launch will help teachers, parents and students to improve math fundamentals through deliberate practice and helpful videos."
The new K1-5 math practice and videos are now available for free on the CK-12 website. They work on all computers, phones and tablets (in HTML5) as well as in 1:1 learning environments.
About CK-12
Palo Alto-based CK-12 is a nonprofit organization that exemplifies the best of open source education software with its well-established STEM content and world-class K-12 learning platform used by more than 30,000 schools globally. Founded by education leader Neeru Khosla, backed by tech industry visionaries such as Vinod Khosla, and referenced by education philanthropist Bill Gates, CK-12's mission is to re-imagine STEM teaching and learning by making free, high quality K-12 STEM content and tools readily available to teachers and students around the world.