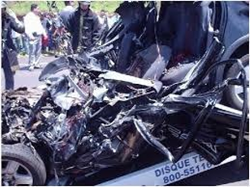 "If every driver in our state used this software, there would be no texting and driving in North Carolina," noted Andrew C. Brock, a NC State Senator from Mocksville.
Wilmington, NC (PRWEB) February 10, 2015
The statistics are here. The stories are real. The pictures are devastating. Laws are broken. Bans are minimal. Petitions are signed, but texting and distractions always seem more important. Signs are made; only out of sight, out of mind. Reminders remind us, but soon forgotten. The ultimate sacrifice of life is tragic. Most feel invincible. It doesn't matter the age, succumbing to the convenience of cell phones and the services they offer is ageless. The days of social media and immediate gratification have arrived. The answer is to alleviate the source altogether. "Always on" modern technology that automatically enables and disables cell phone activity that is based on personal preferences is now available. Now personal judgment should not be clouded by a choice that could cost life.
Amid calls by NC Governor Pat McCrory for a renewed crack down on texting and driving, a North Carolina Company announces new software to eradicate texting and driving by deactivating Android smart phones above 10 mph.
No Text No Wrecks software is the first of it's kind launched in this state, and one of only a handful of products nationwide to directly combat the deadly explosion of texting and driving through ever-evolving technology.
"We developed this software to save lives, especially among young people where texting and driving now kills more than drunk driving," said businessman Foster Oliver, CEO and Founder of Software GPS-Based No Text No Wrecks Company in Wilmington, NC.
"After being injured myself by a texting cement truck driver, I learned about the enforcement difficulties the state has had enforcing the current texting ban. When the Governor told his NC Impaired Driving Task Force we had to crack down on this, we got busy," said Oliver.
"This breakthrough technology will save lives, particularly among teens. Imagine who might be alive today if their texting didn't function while driving," said Oliver.
"The child's not going to be able to talk, text, or even go to social media. They can't do anything," Oliver said.
"It just isn't worth it, and that's the message we're sending. We can stop it. We're gonna stop it," Oliver said
Automatic text responses to a call or text message while the software is enabled is sent once the phone is in motion above the users set speed of motion. Emergency 911 is always available.
Local NC Stations Investigated New Smart Phone Software.
WRAL's Investigative Unit Test NC Debuted Smart Phone Service to help Prevent Texting and Driving.
WRAL Raleigh, NC News; November 21, 1014; Reporter - Cullen Browder
WECT's Lead In Story: Wilmington-Based Software to Eliminate Texting and Driving.
WECT Wilmington, NC News; January, 28, 2015; Reporter - Alex Giles
Five seconds is the average time a driver's eyes are off the road while texting. When traveling 55 mph that is enough time to cover the length of a football field.
In 2011, at least 23 percent of auto collisions involved cell phones, equaling 1.3 million crashes, and has risen dramatically with each passing year.
A texting driver is 23 times more likely to get into a crash than a non-texting driver.
Engaging in visual-manual subtasks -- reaching for a phone, dialing, texting, eating, changing the radio, etc. -- are all associated with the use of hand-held phones and other devices increasing the risk of getting into a crash by three times.
Using a cell phone while driving, whether it is handheld or hands-free, delays a driver's reaction as much as having a blood alcohol concentration at the legal limit of .08 percent.
Forty-eight percent of young drivers have seen parents drive while talking on a cell phone and 15 percent of young drivers have seen their parent's texting while driving.
Sixty percent of drivers use cell phones while driving. Over 60 percent of American teens admit to risky driving, and nearly half of those also admit to text messaging while behind the wheel of a car.
Source: http://www.textinganddrivingsafety.com/texting-and-driving-stats ; http://www.distraction.gov;
University of Utah; 2011 Harris Poll
No Text No Wrecks has the answer to help alleviate the temptation to text, talk and drive. Why? To Save Lives. It is the most accurate, reliable and enforceable distracted driving solution available – period. It is the first of its kind to shut down texting, talking, social media, email, and Internet or mobile data capabilities based on the most relevant and most modern GPS technology.
Subscriptions to the Android smart phone software would be $8.95 per month, which would include up to 4 users. Parents control access and is also secured by administrative password protected settings to prevent deactivation.
The programmed default speed is 10 mph and will disengage once the speed drops below the set speed automatically. No Text No Wrecks follows the phone, not the person, not the car, and not the space.
Personal settings give specific options to change the response message that is sent to calls and text messages received while the phone is in motion. A whitelist option is also available to allow specific name and numbers to call or text through times of need. It is not used to get around the technology, but rather to use smart technology using common sense.
In today's world having the convenience of cell phones and social media access seems necessary because it's socially accepted as the logical way to run life, business with the ability to connect immediately. But should anyone sacrifice a tragic loss of life, or a life changing accident that cannot be undone?
Begin with teaching and training young drivers, re-training adults and even ourselves. Make those we care about aware of safe driving etiquette. The delay of instant gratification is key. Temptation is great these days with the convenience of cell phones and social media access. It seems necessary to most and is socially accepted as the logical way to communicate instantly, wherever and whenever. It's that one decision in a split-second that changes lives forever. Isn't it worth it if it changes or saves even one life; your life, a child's life, best friend, mother, father? The price of one drink, or one cup of coffee a month can result in peace of mind. Used a cell phone while driving lately? Been distracted while behind the wheel of a car? Think it can't happen to you? "It's only a second." Well that second can be the last.