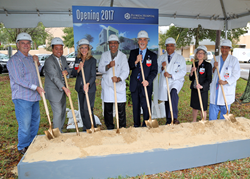 We are pleased to break ground on this expansion project to benefit the residents of the Tampa community.
(PRWEB) February 05, 2015
Florida Hospital Carrollwood is breaking ground on a new hospital expansion project that centers around the surgical services area, but also includes two interventional radiology/catherization labs, two endoscopy rooms and supportive services expansions. The project will also feature 12 state-of-the art operating rooms, a new surgical waiting room and pre-admission testing area. It is estimated to be a $71- million dollar capital investment, and will cover the surgical expansion, as well as numerous infrastructure improvements.
The supportive services expansions will include a new materials management department/loading dock and Central Sterile processing department to help facilitate the growth. The expansion covers nearly 100,000 square feet, including 55,245 new construction and 61,621 feet of renovated space. A Groundbreaking Ceremony to celebrate the project took place this afternoon at Florida Hospital Carrollwood.
"We are pleased to break ground on this expansion project to benefit the residents of the Tampa community," said Florida Hospital Carrollwood President and CEO Joe Johnson. "While we have become known for excellent service and outstanding physicians, we are enhancing our facility so the physical environment represents the experience we desire for our patients and caregivers. Enlarging the facility made sense in order to accommodate the growing number of patients seeking specialty surgery. Additional renovations will upgrade support areas important to the efficient operations of the hospital." The 116,866 square-foot project is expected to be completed in 2017, and the hospital will remain open and fully operational during construction.
"As a physician who has practiced in this community for many years, I am excited to see Florida Hospital Carrollwood's continued growth and dedication to expanding our health care resources here in Tampa Bay," said Ravi Patel, M.D., Chief of Surgery at Florida Hospital Carrollwood. "Our medical staff is proud to partner and practice with an organization that invests so significantly in our community."
About Florida Hospital Carrollwood
Florida Hospital Carrollwood is an acute inpatient hospital that provides general and specialty surgery and medical services to community residents in the northern Tampa Bay region. A member of the West Florida Region of Florida Hospital and Adventist Health System, the hospital offers emergency services, inpatient and outpatient surgical services, inpatient acute and intensive care, and Wound Healing services in an environment focused on Christian compassion and whole-person health and healing. The hospital has also achieved several firsts in the region, including the development of a state-of-the-art Spine Center of Excellence, utilizing the Mazor Renaissance™ Spine Robot, as well as achieving the notable HIMSS Level 7 designation for the facility's dedication to electronic systems and patient safety. For more information, please visit http://www.fhcarrollwood.org.