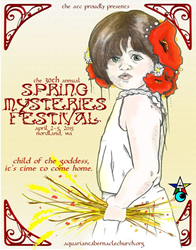 Index, WA (PRWEB) February 10, 2015
The Aquarian Tabernacle Church of Wicca is celebrating 30 years of Spring Mysteries Festival at Fort Flagler, Washington.
The prices for Spring Mysteries XXX went up to $220 on February 2nd. The ticket pays for lodging and food from Thursday evening to Sunday morning. Interested parties can register here before the next price increase on March 4th to $240, by either logging into an account or creating a new one. More information about the festival can be found on the ATC's website, http://aquatabch.org/.
The weekend features a two-day psychodrama, recreating the Eleusinian Mysteries of ancient Greece. Participants will get to see priests and priestesses representing the Gods and Goddesses as they recreate one of the most sacred rituals of ancient Greece. Festival-goers will also have the opportunity to commune with the Gods individually.
This will also be the first year Selena Fox, renowned Pagan author, environmentalist and teacher, will be in attendance. She will be speaking about the late Pete "Pathfinder" Davis, and her experiences working alongside him.
On a more mundane level, there will be workshops, a memorial service for the late founder of the ATC, and a live auction. There will also be numerous Pagan-themed vendors selling their wares.
About the ATC:
Nestled into the Cascade Mountains at the foot of a great stone wall, at the edge of the Wenatchee temperate rain forests on the north eastern outskirts of the enchanted Emerald City known as Seattle, WA, the Aquarian Tabernacle Church has nurtured the work of the Goddess since 1979. Founded by Rt. Rev. Pete "Pathfinder" Davis, the ATC has been a legal 501(c)3 non-profit Wiccan Church with a group exemption for 33 years. The world headquarters at the Mother Church is in Index, WA, with affiliated churches currently in multiple states and 7 countries, with plenty of room to grow.