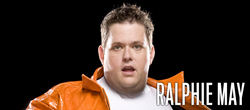 Kalamazoo, MI (PRWEB) February 06, 2015
Ticket Pre-sale runs 11 a.m. Feb. 10 to Feb. 12. General sales begin Feb. 13.
Comedy Central's Ralphie May performs at the Kalamazoo State Theatre.
May 1, 9 p.m. Doors open 8 p.m.
Ticket pre-sale 11 a.m. Feb. 10, to 11:45 p.m. Feb. 12
Pre-sale password: FUNNY.
General Ticket Sales begin Feb. 13, 11 a.m.
$47 Gold Circle - Front & center, the best 152 seats in the house
$34 Remaining orchestra, mezzanine, and front balcony
$28 SUPER SAVER - Remaining balcony seating
Tickets available at the State Theatre box office, 404 S. Burdick St., downtown Kalamazoo, Tuesday-Friday, 11 a.m. To 6 p.m., online at ticketmaster.com, or by phone at 800-745-3000.
Ralphie May, who hit big time with his hip-hop, hard-hitting humor on Comedy Central and late night television, brings his touring show to Kalamazoo's State Theatre on May 1.
Tickets for the show become available next week for the four-time platinum awarded comedian's show. Known for his quick wit and a biting humor, much of May's routine focuses on pointing out society's hypocrisies. He's not afraid to deal with delicate topics or ethnic jokes, yet according to the Comedy Central website, May insists that as "long as what he's saying is true, people need to hear it."
Known as much for his rotund figure as for his savage comedy, May gained wide notice with his two stand-up comedy specials on Comedy Central, "Girth of a Nation" in 2006, followed by "Ralphie May: Prime Cut" in 2007. He also had roles in the films "For Da Love of Money" and "Gas." May has made multiple appearances on "The Late Late Show with Craig Kilborn" and "Jimmy Kimmel Live." On a performance on "The Tonight Show with Jay Leno," May received a standing ovation, reportedly the first comedian in 10 years to do so.
Tickets for the May 1 show will be available in a "pre-sale" running Feb. 10-12 at the State Theatre ticket office in downtown Kalamazoo and online at Ticket Master. Purchasers must use the password "FUNNY" for the pre-sale. Regular sales open Friday, Feb. 13, at 11 a.m. at the ticket office and Ticketmaster. All sales are for reserved seats only.
The State Theatre first opened as a movie palace in downtown Kalamazoo in 1927, and has evolved into a popular concert venue for many years. Still retaining its movie-palace décor, the historic theatre has recently been undergoing a multi-million-dollar refurbishment to restore its original glory while improving comforts for performers and customers alike.