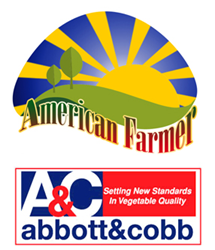 Feasterville, Trevose (PRWEB) February 06, 2015
Abbott & Cobb, Inc., announced that they will be featured in an upcoming episode of American Farmer, airing 2nd QTR 2015 on RFD-TV.
American Farmer will explore Abbott & Cobb, a primary resource for superior quality vegetable seed. This segment will educate on their sweet corn breeding, production and marketing. Viewers will learn about Abbott & Cobb's ability to offer commercial growers and shippers the highest quality sweet corn varieties, which are all bred and selected for their remarkable flavor, texture, longer holding ability, attractiveness, and excellent disease resistance.
"The secrets are in the seed! Sweet corn breeding, production and marketing has been our passion for years," said Ivy Perez, Marketing Manager for Abbott & Cobb." "We are excited to share our officially patented, and 100 percent natural, sweet corn genetic breakthrough, SuperSeedWare® (SSW®), with the agricultural community. Collaborating with the respected American Farmer series is our opportunity to extend our passion, knowledge, and sweet corn seed developments to viewers."
"Abbott & Cobb's sweet corn is developed through 100 percent natural genetics," said Charlie Cowan, Producer for American Farmer. "We look forward to educating audiences on their remarkable offerings."
About Abbott & Cobb:
Founded in 1917, Abbott & Cobb, Inc. has had a long, successful history of developing and marketing proprietary vegetable genetics, sold principally to large commercial growers. The company is recognized as a leading vegetable genetics innovator and market creator.
For more information, visit: http://www.abbottcobb.com.
About American Farmer:
American Farmer is a breakthrough program on a mission to showcase the latest advancements in agriculture and farming. From seed to harvest, livestock and more, our producers have traveled the country covering the people, places and issues impacting all areas of farm country.
American Farmer airs Tuesdays at 8:30am ET on RFD-TV. Check your local listing for show times.
For more information visit: http://www.AmericanFarmerTV.com or call Charlie Cowan at: (866) 496-4065 x 875 or via email at: Charlie(at)AmericanFarmerTV(dot)com.