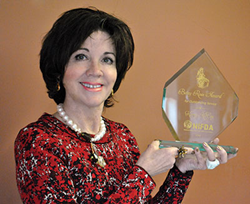 Little Rock, ARK (PRWEB) February 05, 2015
Kerry McCoy, owner and president of Arkansas' FlagandBanner.com was the recipient of the Betsy Ross Award from the National Independent Flag Dealers Association (NIFDA). This award is the highest honor in the flag industry. The purpose of the award is to recognize an active member in good standing with NIFDA who has gone above and beyond the call of duty to become a successful flag dealer and bring service, visibility and positive attention to the flag industry.
Arkansas' FlagandBanner.com is celebrating their 40th year in business throughout 2015. McCoy opened her flag business, Arkansas' Flag and Banner, in 1975, and during 40 years the operation has progressed from door-to-door sales to the Internet. In 2000, the company began marketing as simply FlagandBanner.com.
FlagandBanner.com started as a one-woman company with McCoy handling all aspects of the business. That small flag business has grown to become a multi-million dollar success located in downtown Little Rock at 800 West 9th Street and now employs a staff of 25.
FlagandBanner.com's other awards include:

Blue Chip Enterprise Award from Connecticut Mutual
(2 time) Arkansas Business of the Year Finalist
ADDY Bronze Award
ADDY Outstanding Achievement Award
1st Place Commercial Sign Design Contest
3rd Place International Sign Contest
Multiple honors from military units
Learn more about FlagandBanner.com at http://presscenter.flagandbanner.com