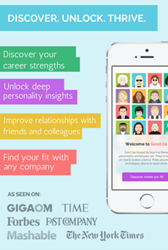 With the rapid success of our consumer app and high demand for enterprise-facing services, we felt that it was important to bring in the right leadership team that is capable of sustaining this growth.
San Francisco, CA (PRWEB) February 06, 2015
Good.Co, the HR Tech startup that is creating tools to empower both people and companies to find increased workplace happiness, today announced that based on recent growth post consumer mobile app launch, four industry leaders will be joining the company's executive team.
"With the rapid success of our consumer app and high demand for enterprise-facing services, we felt that it was important to bring in the right leadership team that is capable of sustaining this growth," said Samar Birwadker, CEO and co-founder. "We had initially expected our new senior team to join in the second part of 2015, but ultimately decided to accelerate the timeline and build a scalable framework, given the validation and traction gained from the launch of our new all-mobile approach."
The new additions to Good.Co's senior team include a veteran CTO, CFO, Big Data Architect, and SVP of Enterprise Product.
Palle Pedersen joins Good.Co as CTO, bringing with him a focused development strategy designed to allow the team to rapidly release enhancements while scaling the infrastructure to support the growth on both the employee and employer-driven functions of the business. Palle's experience ranges from scaling venture-backed Black Duck Software to high-performance computing at Thinking Machines and ICE. His core expertise in managing real-time, high availability efficient systems makes him invaluable for this stage of the company. Palle holds a wide range of patents across multiple industries, and will play a key role in driving Good.Co's intellectual property acquisition efforts.
With his growing involvement with the company both as an investor and board member since early 2013, Good.Co's recent growth made it a no-brainer for Ashesh Shah to officially join the team as full-time CFO. Ashesh's experience in building technology companies, coupled with his experience in managing billion dollar portfolios in private equity and venture capital puts him in the ideal position to structure and fuel the expansion of the Company. With successful exits and IPOs as a founder or early team member of several high-growth technology startups, Ashesh feels at home in his new role at Good.Co. Ashesh also has international cross-sector experience and holds patents in payment technology, loyalty, telecommunications and intellectual property management.
Dr. Valerie Fraysse will work alongside Palle as Good.Co's Big Data Architect. As a applied mathematician with extensive experience with large systems and complex datasets, Dr. Fraysse will handle Good.Co's database - the world's largest database of answered psychometric questions – and map millions of data points to generate greater insights for both consumer and enterprise clients. Palle and Valerie share a joint track record of successful collaborations on other ventures, including RealCME, Black Duck Software and payment-processing company PLEJ.
Dr. Charles Handler, one of the leading I/O psychologists and thought leaders in the HR and assessments industry, joins as Good.Co's new SVP of Enterprise Product. While Good.Co's psychometric science team expands to cater to both consumer and enterprise demand, Dr. Handler's experience in building assessment products paired with his enterprise-side expertise adds significant depth and expertise to Good.Co's 21st century approach to solving human capital problems. Dr. Handler brings 20-plus years of experience within the talent acquisition sector, including roles at Bersin by Deloitte, Monster and as the founder of Rocket-Hire. His industry clients include Wells Fargo, BP, Intuit, T-Mobile, Hilton, Feeport-MacMoran and Hershey's Corporation. Dr. Handler will work alongside Good.Co's Chief Psychometrics Officer Dr. Kerry Schofield and the science team.
About Good.Co
Good.Co is a self-discovery platform and network for a new generation of professionals looking for greater meaning in their careers. The mobile app (available on iTunes and Google Play) helps job seekers and employees identify their professional archetype, assess their culture fit with hundreds of companies, and gives them the tools and resources they need to find true happiness in the workplace. Good.Co's PPA (Proprietary Psychometric Algorithm) taps into over 20 years of career psychometrics and psychological analysis, helping people identify their professional style for better fit with current and potential employers and teams.
A TechStars Cloud company, Good.Co is based in San Francisco, CA and was founded in 2012. To learn more about Good.Co and find your professional work personality today, visit: http://www.good.co.