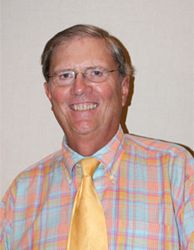 Fairfax, VA (PRWEB) February 05, 2015
To show support for Gum Disease Awareness Month this February, Dr. J. Alexander Withers is educating his patients in Fairfax, VA, on preventing, recognizing and treating gum disease. Dr. Withers is also warning patients of the many health risks associated with periodontal disease, which range from oral health problems to systemic conditions. For patients who already suffer from periodontal disease, Dr. Withers provides various forms of treatment, from laser gum surgery with the LANAP® protocol to conventional surgery.
Dr. Withers uses Gum Disease Awareness Month as an opportunity to remind patients of the various serious consequences of periodontal disease. Advanced periodontal disease can cause damage to gum tissue, teeth and the underlying alveolar bone; if this damage is severe enough, tooth and bone loss can both occur. Periodontal disease can also cause chronic inflammation, since the disease allows harmful bacteria to enter the bloodstream at the gums and circulate throughout the body. This may explain why research has shown that people with periodontal disease are more likely to suffer from various systemic illnesses, including heart disease, pancreatic cancer and stroke. In light of these adverse outcomes, Dr. Withers encourages patients in Fairfax, VA, to take preventing or treating gum disease seriously.
Many preventative measures can lower a person's risk of developing periodontal disease. Practicing strong oral hygiene habits, eating a healthy diet and restricting or stopping tobacco use can help prevent periodontal disease. Dr. Withers also advises patients to seek treatment for existing oral health issues, such as tooth or bite misalignment, that may contribute to periodontal disease. Unfortunately, the disease can also occur due to factors that patients cannot control, such as stress, hormonal levels and genetic predisposition. If preventative measures fail, Dr. Withers has various means of treating periodontal disease, including the LANAP® protocol, which is a precise and minimally invasive laser gum surgery. This procedure removes periodontal disease while promoting a quick and uncomplicated recovery.
People who take note of periodontal disease symptoms and seek treatment early may reduce their risk of related health problems. Dr. Withers encourages patients to watch out for gum recession, inflammation, bleeding or pain, along with changes in gum pocket size or tooth stability. Anyone who notices these signs should consider visiting Dr. Withers in Fairfax, VA, to learn whether gum disease treatment is advisable. Current and prospective patients can request appointments by calling Dr. Withers' practice office or visiting his website.
About the Practice
Dr. J. Alexander Withers Periodontics and Implant Dentistry is a periodontal practice offering professional dental care for patients in Northern Virginia. Dr. Withers received a Bachelor's Degree in Biology, and earned his D.D.S. degree from The Medical College of Virginia. Dr. Withers has been named in the Top Dentists by the Washington Magazine, Checkbook Magazine and Consumer Research Council of America and Northern Virginia Magazine. To learn more about Dr. J. Alexander Withers Periodontics and Implant Dentistry and their dental services visit their website at http://www.withersperio.com/ or call (703) 997-4211.