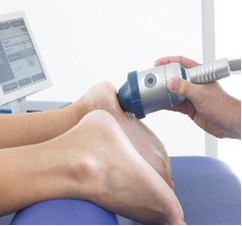 New York City, NY (PRWEB) February 07, 2015
Dr. Lev Kalika, director of the New York Dynamic Neuromuscular Rehabilitation & Physical Therapy, and his staff are pleased to report that they've cured over 98% of patients with plantar fasciitis by combining use of a device (Orthopulse Duolith) unique to their practice with targeted manual therapies and special foot wraps.
Plantar fasciitis or "heel spurs" occurs when a thick, flat tissue (plantar fascia ligament) that runs under the soles of the feet and connects the large heel bone to the toes becomes inflamed and often painful. However, in many instances there is no pain but instead a shift from healthy to unhealthy gait or walking which puts even more strain on the plantar fascia which can tear it.
Approximately 10% of people in the US experience episodes of heel pain which results in more than 1 million visits each year to healthcare professionals for treatment of plantar fasciitis. Many wind up having injections of anti-inflammatory drugs or pain killers, or worst yet, surgery.
Dr. Kalika's method of curing plantar fasciitis centers on the use of the Orthopulse Duolith which produces pressure waves (called "shockwaves") which penetrate foot tissues and stimulate processes that bring about relief, regeneration and healing (FDA approved Extracorporeal Shock Wave Therapy, or ESWT).
As part of his comprehensive approach to evaluating and caring for patients, Dr. Kalika and his staff do a very thorough, high tech analysis of each patient's gait and walking (Computer Assisted Rehabilitation Environment or CAREN) as a way of identifying underlying issues. They then create a highly personalized treatment program that combines Orthopulse Duolith with customized manual therapy of affected foot joints and soft tissues, and then application of specific foot wraps that are designed to support the healing and regeneration process.
People at special risk of having plantar fasciitis or other foot conditions that can be remedied by Dr. Kalika's comprehensive (or holistic) diagnostic and treatment approach include:

People who have high arches or flat feet.
Those who walk, stand, or run for extended periods of time, especially on hard surfaces.
Folks who roll their feet inward too much when they walk.
Those who are overweight or obese.
People who tend to wear shoes that don't fit well or are worn out.
Offering physical therapy in New York from 9 a.m to 7 p.m. Monday thru Friday, the rehab center is located at 130 W. 42nd Street, Suite 1055, New York 10036. The telephone is 866-311-5889. For more information visit nydnrehab.com