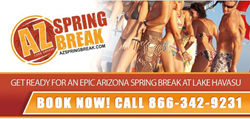 Packages start at $50 per person.
(PRWEB) February 06, 2015
The countdown to spring break has begun and London Bridge Resort at Lake Havasu, Arizona is offering college students the most for their partying dollar with exclusive online AZ Spring Break Party Packages. These packages include all-suite accommodations; a daily hot breakfast and a complimentary Party Shark Card. Packages start at $50 per person.
London Bridge Resort, home of AZ Spring Break, the biggest spring break event in the western United States, is set to get the party started on March 6, 2015. Students can take advantage of two affordable packages by booking a suite at the Lake Havasu Spring Break headquarters.
Students purchasing the AZ Spring Break Party Package will receive the official Party Shark Card* at no cost. The Party Shark Card offers students:

No cover before 10 p.m. at Kokomo Beach Surf & Party Bar
Line privileges at Kokomo Havasu
20% off dining at Splash Grill
20% off dining at The Grill at Martini Bay
Discounts at area restaurants
Souvenir cup
Discount on Signature Spring Break Drink
Free swag
In addition, students will have access to all the amenities the resort provides, such as wireless Internet access, three swimming pools, a Jacuzzi, Splash Pool, featuring a 94-foot waterslide and spacious suites with flat-screen TVs and kitchenettes. Walk outside the hotel and you're at The Channel beach as well as the area's popular nightclubs, bars, and shopping venues, London Bridge Resort has everything for a full week of fun.
AZ Spring Break Party Packages can be booked by going to http://www.azspringbreak.com/packages.
About London Bridge Resort Lake Havasu
Situated on the banks of Lake Havasu, London Bridge Resort is an all-suite property with a full range of resort amenities and conveniences, including day spa, gift shop, golf, tennis, conference facilities, concierge services and onsite restaurant and nightclub. Every year, thousands of college students descend on Lake Havasu for spring break, with many taking advantage of the accommodations at London Bridge Resort, the official headquarters of AZ Spring Break.
*Party Shark Cards are free for up to four guests in a one-bedroom suite and six guests in a two-bedroom suite and some Party Shark Card benefits are only available to Spring Break guests that are 21 years of age or older.