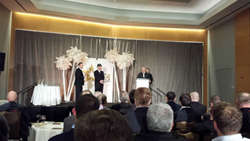 Surrey, BC (PRWEB) February 06, 2015
At January's AHR in Chicago, Delta Controls attended the ControlTrends Awards and won 2014 Building Automation System of the Year. ControlTrends voters also chose the Delta DLS as the Lighting Integration Solution of the Year and awarded one of Delta's systems specialists, Greg Holloway, with Best Technical Support Person of the Year – Large Manufacturer.
It was especially gratifying to receive these awards because they come from an online community composed of controls professionals and hundreds of installers and engineers – in other words, the experts who truly know the products and the industry.
Delta Controls extends their thanks to all of the controls practitioners who voted, ControlTrends, and all of our employees and partners who work so hard to create award-worthy products and systems.
With more than 300 installers in over 80 countries, Delta Controls is one of the largest independent manufacturers of building automation systems. Our 30+ year track record includes delivering the world's first fully integrated native BACnet building solution encompassing HVAC, lighting and access products. To find out more about our products and projects please visit http://www.deltacontrols.com
For more information about Delta Controls please contact Una de Boer, Director of Marketing: [email protected]