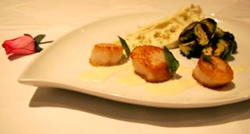 "Easy but sure to impress" is how the Hodsons restaurants' chef describes these delectable Valentine's Day treats.
Denver, Colorado (PRWEB) February 06, 2015
Hodsons Colorado-based restaurants are sweetening things up on Valentine's Day with special menus worthy of celebrating any romance. Executive Chef Justin Adrian has created Valentine's specials for the two Hodsons locations in downtown Denver and at the Streets at SouthGlenn in Centennial, Colo., ranging from an elegant "oyster trio" featuring a half-dozen oysters prepared three ways and a Colorado striped bass with a coconut-sweet Thai chile sauce to a beef fillet stuffed with wild mushrooms and draped with a cognac cream sauce. But those who can't make it to Hodsons can still experience the chef's upscale gourmet cuisine at home with Valentine's Day recipes for the home cook.
To help make the most of the holiday weekend, Roadhouse Hospitality Executive Chef Justin Adrian has prepared recipes sure to make a sweetheart swoon. "Easy but sure to impress" is how the Hodsons restaurants' chef describes these delectable Valentine's Day treats, starting with Pan-Seared Scallops with a Basil Citrus Beurre Blanc, a simple but dazzling main course, and then a Raspberry Coulis ideal for spooning over ice cream or flourless chocolate cake. More recipes can be found at hodsonsbarandgrillsouthglenn.com.
Pan-seared Scallops with Basil Citrus Beurre Blanc
6 large sea scallops
1 tbsp. olive oil
Heat a medium or large sauté pan or skillet over medium-high heat. When it is hot, add olive oil and then scallops. Do not turn until they are golden on one side; flip and cook until golden on the other, about a minute to 80-95 seconds per side. Do not overcook; they will be still nearly translucent in the center but will continue to cook when you take them off the heat. Place on plate and drizzle with beurre blanc, and garnish with reserved basil leaves.
Basil Citrus Beurre Blanc
1/3 cup white wine
2 tbsp. lemon juice
1/2 cup heavy cream
6 large basil leaves, roughly chopped, plus several small leaves for garnish
1 stick chilled butter, cut into pieces
Salt and white pepper, to taste
Bring white wine and lemon juice to a boil in a heavy saucepan; reduce by one-third. Pour in heavy cream and heat until it just begins to bubble. Remove from heat and whisk in butter cubes one at a time, returning to the heat and removing, back and forth, until sauce thickens and emulsifies. Season to taste. Make the sauce just before you make the scallops and then keep it warm, but not hot. It will hold by sitting over a pilot light, atop a pan of warm water or put in thermos to keep warm until ready to use.
Raspberry Coulis
1 pint fresh raspberries
½ cup red wine
¼ cup sugar
Combine ingredients in heavy-bottomed saucepan and bring to a boil. Boil uncovered for 5-10 minutes, or until liquid reduces by half and begins to thicken. Watch to be sure it doesn't burn or boil over. Puree in a blender and then strain through a fine-mesh colander to remove pulp and seeds. Drizzle cooled coulis over a scoop of ice cream served in a martini glass and garnish with mint leaves or shaved chocolate.
For those spending the Valentine's Day holiday weekend in Colorado, at Hodsons at the Streets at SouthGlenn things heat up Feb. 13, 14 and 15 with an a la carte menu that includes the famed alleged aphrodisiacs of oysters on the half shell and an "oyster trio" with six oysters offered in three pairs, each dressed with a different delectable mignonette concoction. The evening's special entrée is a pan-seared bass with carrot risotto, asparagus hay and snow pea brodo with a whimsical "carnival funnel cake" with banana ice cream as the finale.
Meanwhile, Hodsons in downtown Denver has couples in mind Feb. 13 and 14 with an a la carte roster that starts with breaded zucchini layered with buffalo mozzarella or lump crab-topped roasted asparagus drizzled with avocado hollandaise. Entrée options include Colorado striped bass napped with Thai chile sauce or an 8-ounce wild mushroom-stuffed beef fillet in a cognac cream sauce. Save room for baked Alaska.
Reservations are highly recommended at both restaurants, which are owned and operated by Colorado-based Roadhouse Hospitality Group. For Hodsons at the Streets at SouthGlenn (6851 S. Gaylord St., #262, Centennial), call 720-457-3852. Hodsons Denver (999 18th St.) can be reached at 303-996-2300.
About Roadhouse Hospitality Group:
A Colorado restaurant group, Roadhouse Hospitality Group currently owns and operates 17 restaurants in the Denver metro area and in Colorado mountain towns and resorts. Roadhouse Hospitality is owned by the three Shipp brothers, each bringing different areas of expertise to Roadhouse's growing restaurant portfolio, which ranges from such historic properties as the recently acquired Wazee Supper Club in downtown Denver to the upscale dining experiences of Hodsons in Denver and the Streets at SouthGlenn to the four family-oriented Dusty Boot Steakhouse & Saloon properties.
Contact:
Kyle Wagner, WordenGroup Public Relations, kyle(at)wordenpr(dot)com, 303-777-7667