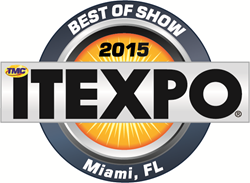 AireContact is a unique offering in the cloud contact center market as it brings together feature-rich software and managed connectivity with QoS over the AireSpring network.
LOS ANGELES, CA (PRWEB) February 06, 2015
AireSpring announced today that its AireContact cloud hosted contact center software was selected as a winner of the Best of Show Award for Best Customer Service Solution at ITEXPO, held January 27-30, at the Miami Beach Convention Center. Winners of the prestigious Best of Show Award program are reserved for products or services that demonstrate raw creativity and technological innovation.
AireContact is a cloud-based contact center software solution that supports the multiple channels of communication that customers have come to expect in our Internet and social media driven world. AireContact replaces premises-based solutions, increasing efficiency by eliminating vulnerability to system outages, legacy integration issues, and downtime for upgrades. As a comprehensive omni-channel solution, AireContact enables companies to effectively manage in-bound, out-bound, and blended contact center services across all channels of communications, including email, chat, text, social feeds (e.g. Twitter, Facebook, and LinkedIn), faxes, and web call backs. Unlike other call center solutions, AireContact leverages AireSpring's fully managed MPLS network to ensure consistent voice quality with no interruptions, increased data security, and reliable end-to-end QoS through a private, managed connection.
"AireSpring has a long history of creative and innovative solutions, and we are continuing that trend with our AireContact cloud hosted contact center software," said Daniel Lonstein, Chief Operating Officer of AireSpring. "AireContact is a unique offering in the cloud contact center market as it brings together feature-rich software and managed connectivity with QoS over the AireSpring network. This allows us to deliver an all-in-one solution with a higher level of quality, allowing contact centers to provide superior and more reliable service to their customers."
"The products and solutions nominated for the ITEXPO Best in Show Awards continue to be cutting-edge, and it's truly exciting to see what new technological developments our exhibitors have for us each year," said Rich Tehrani, TMC CEO and conference chairman. "We are pleased to honor AireSpring for their efforts and creativity in developing advanced, powerful solutions for the business technology marketplace."
ITEXPO delivers programming that focuses on the latest technologies, regulations, essential issues, and trends within the communications industry, including wireless and mobility, unified communication and collaboration solutions, VoIP solutions, cloud computing, customer experience and interaction, and much more. For the latest ITEXPO news, updates and information, follow on Twitter at @ITEXPO.
For more information about the AireContact cloud hosted contact center software solution, visit http://www.airecontact.com.
About AireSpring
Headquartered in Los Angeles, AireSpring is an award-winning provider of cloud communications and connectivity solutions serving thousands of businesses nationwide. AireSpring provides fully managed and connected end-to-end, next-generation solutions for multi-location enterprise customers, including Cloud Contact Center, Unified Communications, Business VoIP Phone Systems, SIP Trunking, MPLS, and Internet. AireSpring's solutions are offered through a diversified network of channel partners that includes distributors, master agents, managed service providers, and value added resellers. AireSpring's services are delivered over its revolutionary nationwide MPLS MESH network, providing customers a fully integrated, end-to-end solution from a single vendor.
AireSpring has received numerous industry awards for "Product of the Year," "Best Telecom Deal," "Best in Show," and "Top Channel Program." AireSpring is privately held, diversified, debt-free, and renowned in the industry for delivering a broad range of innovative cloud communications and connectivity solutions at competitive rates. To find product information or to become an AireSpring partner or agent, please visit http://www.airespring.com or contact us at 888-389-2899.
About TMC
TMC is a global, integrated media company that supports clients' goals by building communities in print, online, and face to face. TMC publishes multiple magazines including Cloud Computing, M2M Evolution, Customer, and Internet Telephony. TMCnet is the leading source of news and articles for the communications and technology industries, and is read by as many as 1.5 million unique visitors monthly. TMC produces a variety of trade events, including ITEXPO, the world's leading business technology event, as well as industry events: Asterisk World; AstriCon; ChannelVision (CVx) Expo; Currency 2.0; Customer Experience (CX) Hot Trends Symposium; DevCon5 - HTML5 & Mobile App Developer Conference; FreePBX World; LatinComm Conference and Expo; M2M Evolution Conference & Expo; SmartVoice Conference; Software Telco Congress; Super Wi-Fi Summit - The Global Spectrum Sharing and TV White Space Event; SIP Trunking, Unified Communications & WebRTC Seminars; Wearable Tech Conference & Expo III; Fitness and Sports Wearable Technology (FAST) Expo II, WebRTC Conference & Expo IV; and more. Visit TMC Events for additional information.
###
AireSpring Contact:
Ellen Cahill
Sr. VP Marketing
818-786-8990, ext. 374
ellen.cahill(at)airespring(dot)com
TMC Contact:
Jessica Seabrook
TMC Marketing Manager
203-852-6800, ext. 170
jseabrook(at)tmcnet(dot)com